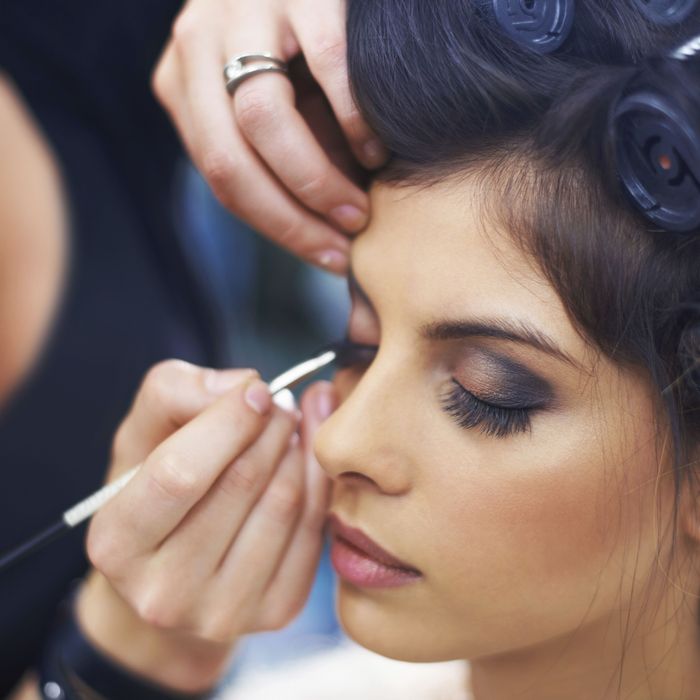 Photo: PeopleImages.com/Getty Images
You might think achieving glowing skin, lustrous hair, and a perfect body requires hard work and optical illusions, but what are you, a Kardashian? Real A-listers know the secret to attaining perfection is to put in as little effort as humanly possible, and to simply be born perfect. We spoke with A Beautiful Celebrity to get the lowdown on her beauty regimen, and her secret for attaining that perfect figure. (Hint: It's nothing!)
Makeup
I already have perfect features, so a little makeup goes a long way. Too much powder, and the power of my heightened beauty makes people blind if they look directly at me. So I'll do a few swipes of mascara — clear mascara, because my lashes are so naturally long that if I put anything on them people get distracted talking to me. Then instead of focusing on what I'm saying, people are all, "What lash serum are you wearing?" But it's really just all me! But for events, I like to do an incredibly complicated 47-step cat eye that takes a team of makeup artists to execute, even though the end result makes people think they can achieve it at home with a drugstore eyeliner. (They can't.) Oh and a lip. I never leave the house without something on my lips. At night, I tend to go for a bold lip. For day, I'll just lick them.  

Fragrance
I don't actually have a signature perfume or even use deodorant or anything like that. I like my natural scent — I smell like a newborn on a tropical vacation.  But when I do sweat, which I haven't really done since I had my armpits microwaved, I get sort of smelly — sort of like a honeysuckle smell? I know, gross. But I'm not embarrassed to admit I get a little bit stinky. We're human.

Hair
I was born with thick, wavy hair that doesn't require a lot of maintenance. My parents joke that I had Brigitte Bardot's natural volume by my first birthday! Most days I honestly don't even wash or brush it; I usually just roll out of bed, unclip my bun, and it cascades down to frame my face with shiny, bouncy curls. Sometimes I use dry shampoo developed in a lab by Vidal Sassoon's genius assistant, Scherzade Cunhales von Liebzich, just to interact with the specific pH of my hair follicles and add a little volume, but mostly I just let it be!
I never use heat styling — that can really damage your hair shaft. I also get professional blowouts four times a week.
Diet and Fitness
I don't really go to the gym, because even after my microwave procedure I have a fear of sweating. Instead, I stick to fitness activities that don't require too much effort: three-hour advanced-barre classes, twice-daily Bikram yoga sessions with my spiritual swami, that kind of thing. But I do that stuff because I love it, not because it keeps me impossibly fit. Sometimes I'll watch an episode of Dancing With the Stars, and that'll give me the energy I need to get through the day.
Honestly, the No. 1 way I stay so effortlessly thin is to drink tons of water. I chug like, six Evians a day. I'm a vegetarian/vegan who's also gluten- and lactose-intolerant. I'm also allergic to nuts and most fruits. You might think that narrows my eating options, but I live in L.A., so it's actually not that hard. Some days, when I'm super-starving from all of the hiking in Runyon Canyon I do, I'll use 2 percent Greek yogurt in my kale smoothie instead of nonfat, just as a little treat.
Skin Care 
I find that you can use the most expensive products, but it doesn't matter if you aren't eating right, drinking enough water, or aren't genetically predisposed. I'm very lucky that I'm not acne-prone, I probably won't get wrinkles, my skin glows as if I'm illuminated from within by fireflies. A Swiss skin-care company is actually creating a serum using my DNA — it's my first collaboration, very exciting.

But still, I don't neglect my skin. Skin is so important. I actually still use the skin-care regimen my grandmother taught me when I was a teenager: Splash your face with purified holy water twice a day, then apply a vat of a seaweed cream a mermaid once gave my great-grandmother in counterclockwise circles.

If I've been traveling a lot, I'll use this really awesome hydrating face mask that's made from the oils of a rare flower that only blooms for 37 seconds once a century.  That way I'll still look as radiant as if I'd slept for 24 hours in my cryogenic tank that night.