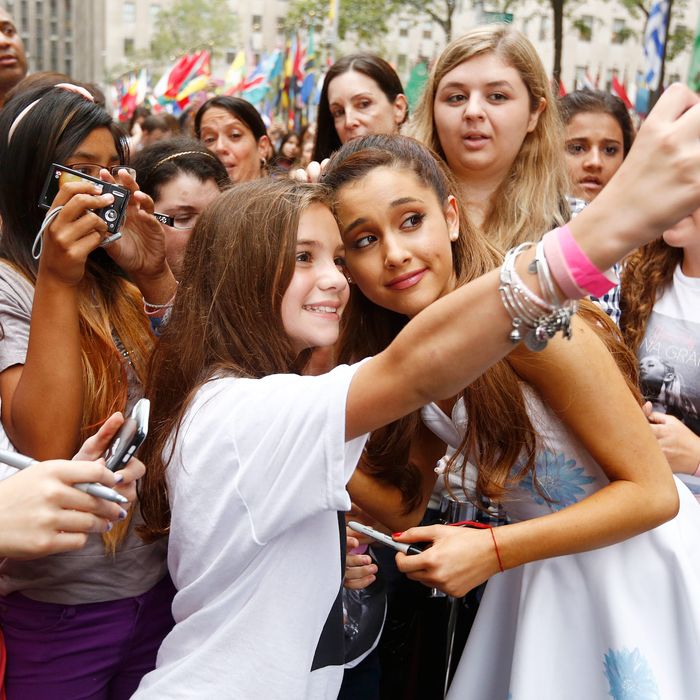 Photo: NBC NewsWire/Getty Images
The power of teen fans on social media can be likened to that of the sea, the wind, and the world's volcanoes — capricious and powerful. Just look at some recent cases: After 94,000 Directioners (and some chicken-fry fans) retweeted Liam Payne's incorrectly punctuated tweet about eating his body weight in "chicken fries [sic] and sides," Burger King is considering bringing back the extinct fast-food item. (And Liam was tweeting about KFC!) Keepers of the Beyhive nearly brought down their queen after that 22 Days Vegan Diet announcement.
Now, Ariana Grande's fans, led by a Swedish 16-year-old named Angie, want to #CancelWendyWilliamsShow after the host made disparaging remarks about Grande's looks.
On a recent episode of The Wendy Williams Show, Williams took issue with Ariana Grande's size and appearance: "She's 21. She'll forever look 12. Which, I don't mean that in a good way … You know, it's nice to look younger than you are, but when you look too young, and then you're short —  she's only like 4'11". I don't look at her as, like, a woman."

Angie is a huge Ariana fan because, she says, the performer is "a feminist, [and] against racism, homophobia, transphobia, animal abuse." She knows every word to Grande's songs. She's been to every one of  Ariana's concerts in Sweden (only one, Grande doesn't make it over that way very often). Angie heard those comments. Angie wasn't happy. She wasn't about to let Williams badmouth Ariana, and immediately tweeted out her discontent:


An hour later, Angie realized the tweet was getting loads of attention. Soon it was trending worldwide. Sixteen hours later #CancelWendyWilliamsShow was trending in Sweden, the U.K., and the U.S., and has been tweeted nearly 74,000 times. (It has since died down.)  Over a Twitter DM interview, naturally, Arianator Angie explained that she sort of started #CancelWendyWilliams as a joke, but there is a serious aspect to it:

"She pointed out things that Ariana can't change, she mentioned her height which is something nobody can change. She said that because she was so tiny she didn't look at her as a woman which is a bad thing to say. Young girls today already feel pressured to be perfect and pointing out something like your height — that you can't change — is just so wrong. Bodyshaming is [bad] because it makes young girls feel more uncomfortable about their body, going through changes in your body is already hard & then having someone to tell you that you don't fit in cause you don't have the right kind of body just makes it even harder. Bodyshaming shouldn't exist, everyone should feel beautiful in their own skin. "



Scrolling through Angie's timeline, who tweets as dulcetgrandes, it does look like all Arianators are out in full support (even if many don't know who Wendy Williams is) — tweeting their support for #CancelWendyWilliamsShow, sharing their opinions regarding celebrity body-shaming, turning the Twitter trend into a meme and Angie into Queen of the Arianators. (Angie will generously follow or RT those who ask.)

Whether or not this counts as body-shaming is debatable, but regardless: Behold, the full magnitude of a fandom's Twitter power to turn one teen megafan's sentiment into a global trend. A power that Angie attributes to the strength of common interest: "I think it's because we found people on here who share the same interest as us and mostly your friends aren't this into some celebrity … the Beliebers are a huge fandom & they took over Twitter for years."

Does #CancelWendyWilliamsShow suggest that Arianators are the new ruling fandom?
"I don't really think we're the new dominant fandom, but we're getting bigger and maybe next year we will be," she DMs. Reader, I followed her. (And will try to avoid writing any negative tweets about Ariana Grande. Or Justin Bieber. Or One Direction. Or Hanson, BSB, 'N Sync, etc.)