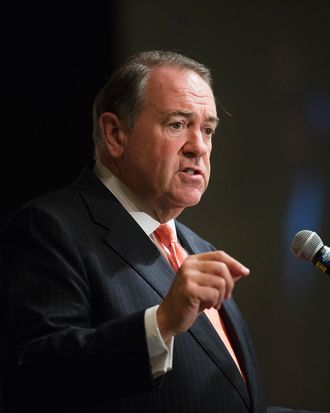 Mike Huckabee.
Photo: Scott Olson/Getty Images
Last night, on CNN's State of the Union, Republican presidential hopeful Mike Huckabee defended a decision by Paraguay's government to deny an abortion to an 11-year-old girl who was raped by her stepfather. The minor had the baby on Thursday.
Pointing out that Paraguay's policy — which makes abortion illegal except in very rare cases when it is deemed necessary to save the mother's life — is similar to the one Huckabee would support as president, CNN host Dana Bash asked how he would respond to his Republican opponents who believe that position is too extreme. Noting that the rape of a 10-year-old is "horrible," Huckabee countered, "But does it solve a problem by taking the life of an innocent child?" He continued: "I wouldn't pretend it's anything other than a terrible tragedy. But let's not compound the tragedy by taking yet another life." He also expressed concern that the mother would feel guilty.
Huckabee conveniently ignores the fact that forcing young girls to give birth often ends tragically: According to medical experts, girls under the age of 15 are at higher risk for complications during childbirth. Data from the World Health Organization shows that in Latin America, girls who give birth before they are 16 are four times more likely to die during childbirth than women in their 20s. Last year in Paraguay, 28 minors died from complications related to childbirth, and, earlier this year, Amnesty International called on Paraguayan officials to allow the girl to end her pregnancy, asserting, "the physical and psychological impact of forcing this young girl to continue with an unwanted pregnancy is tantamount to torture."
In the first GOP debate, Scott Walker and Marco Rubio  also supported policies that would ban abortion without exceptions for rape or incest, or the life of the mother. This position may earn them hard-line pro-abortion votes, but is out of step with most Americans — according to a recent Gallup poll, only 19 percent of the electorate is in favor of a complete ban on abortion care.