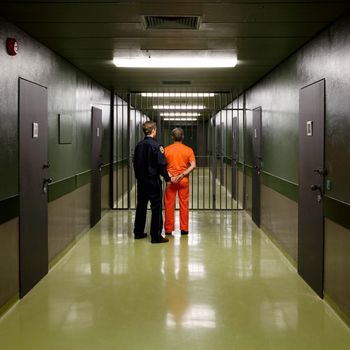 In a verdict that's very long overdue, a federal appeals court ruled yesterday that malicious sexual contact by prison guards may be a violation of an inmate's constitutional rights. The New York Times reports that the decision allows a lawsuit by two former inmates at a New York State prison, James Crawford and Thaddeus Corley, who are both now on parole, to proceed. Their complaint alleges that, back in 2011, Corley was in a visiting room with his wife when a corrections officer, Simon Prindle, ordered Corley to stand against a wall with his legs spread to make sure he didn't have an erection. According to the complaint, Prindle "paused to fondle and squeeze Mr. Corley's penis," and threatened him when he objected
The complaint also alleges that, four days after Corley's assault, Prindle pressed Crawford against a wall and "squeezed and roamed" with his hands around the inmate's genitals, threatening to send him to solitary confinement if he resisted. Inmates at the prison, Eastern Correctional Facility in Napanoch, New York, have filed more than 20 grievances against Prindle claiming that he sexually abused or harassed them.
Last year, Corley and Crawford's case was dismissed by Norman A. Mordue, a federal judge who cited the standard for sexual abuse of prisoners established by a 1997 case, Boddie v. Schnieder. In that case, an inmate complained that a female officer had touched his penis and called him a "sexy black devil." The judge dismissed the case on the grounds that the abuse wasn't "severe or repetitive."
In yesterday's ruling, Judge John M. Walker Jr. said that Mordue had interpreted the 1997 decision too narrowly, writing: "A corrections officer's intentional contact with an inmate's genitalia or other intimate area, which serves no penological purpose and is undertaken with the intent to gratify the officer's sexual desire or humiliate the inmate, violates the Eighth Amendment." Walker also noted that, in the two decades since the Boddie decision, "societal standards of decency regarding sexual abuse and its harmful consequences have evolved."
"The court's decision today is an important clarification of what should be totally obvious to prison professionals but, unfortunately is lost on some judges," Zachary Margulis Ohnuma, a lawyer representing Corley and Crawford, said in an email to the Times. "Sex abuse in prison is wrong, illegal, and unconstitutional. Our clients won't let this guard get away with it." A spokesperson for the Department of Corrections and Community Supervision declined to comment to the Times about whether the department still employs Prindle.