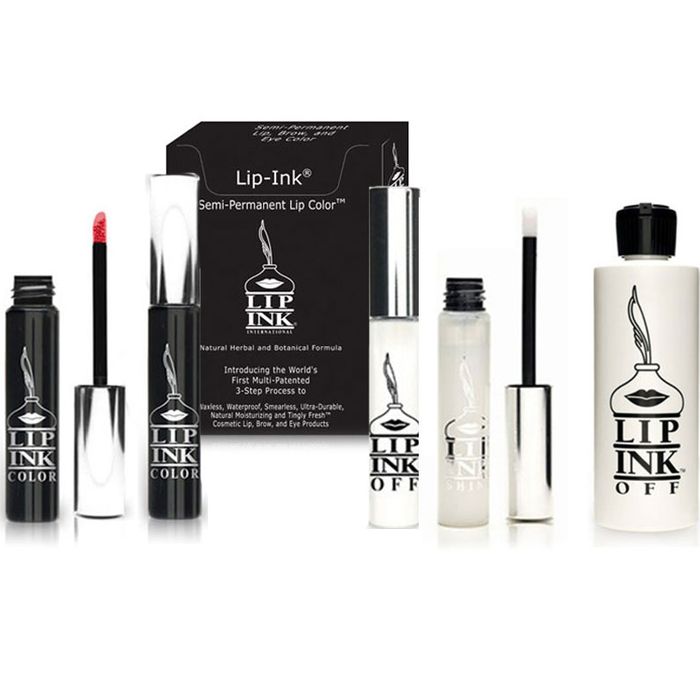 A lipstick imprint on a coffee mug is the beauty equivalent of a chalk outline at a crime scene. In both cases something died and in the former instance, that something is your lipstick. If you're looking for a lip color that can weather your morning coffee break and then some, under-the-radar makeup brand Lip Ink may be your best best.
I first heard about Lip Ink via a game of beauty Telephone: The Cut's senior beauty editor, Kathleen Hou, read that Dita Von Teese swears by the smudge-proof formulas, having been introduced to the brand by a few charitable porn stars. To use Lip Ink, you must follow an explicit five-step process that employs the use of the three products in the brand's starter kit. First there's "Off," a thin, watery cleanser derived from coconut oil that is meant to exfoliate and clear the lips of any leftover products. After rinsing "Off" off with a few dabs of water, my lips felt dry and naked.
Next up is an optional step: lining your lips. Lip lining is my thing, so I went for it using one of the colors that comes with the kit, Champagne.
After lining comes the moisture stage, using "Shine," the third product in the kit — a clear gel that's mostly glycerin. After applying a glob to my lips, I added three coats of the actual lip color, as directed, very slowly. The lip color, which is a very thin liquid, stings a bit. According to Lip Ink, that slight tingle comes from the product's 40 natural herbs and botanicals, which include known causes of tingling like castor, rosemary, and sage oil. The color sank into my lips like a stain. After ten seconds or so, it dried to a matte finish, but after the fifth and final step, a final layer of "Shine," my lips looked completely glossy.
Here's what I did while wearing Lip Ink: ate two slices of pizza and some soup; drank water, Coke Zero, and two glasses of wine; and snacked on a Snickers bar, charcuterie, and some delicious chocolate-covered almonds. It was an especially gluttonous Friday and my lip color didn't smudge one bit. It's like the stain had tattooed itself onto my skin, and the only way even the faintest amount of color left my lips was when I wiped the color away with a wash of "Off." (A second attempt on another day revealed that an intense combination of scrubbing and soap was not nearly as effective as the "Off" solution.)
Despite being thrilled with Lip Ink's performance, I did notice that the lip colors on the site (and their descriptions) didn't seem to match the color in real life. For example, "Champagne" is sandwiched between a dusty-rose icon and description that reads, "a subtle wine pink with a brown and blue base." But in reality, Champagne is an intense and vampy plum. That's a nit-picky note, but hopefully it can be fixed, because if I'm bound to a long-lasting lip color for the better part of the day, at the very least, I'd like to wear the shade I signed up for.
Lip Ink Lip Stain Kit, $67.44 at Lip Ink.