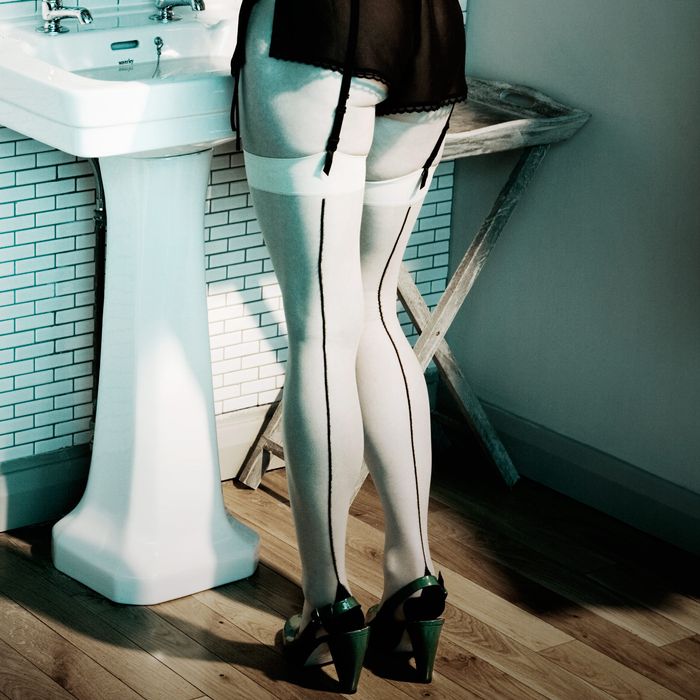 New York's Sex Diaries series asks anonymous city dwellers to record a week in their sex lives — with comic, tragic, often sexy, and always revealing results. This summer, the Sex Diaries will appear on the Cut as a special edition. Check back on Tuesdays for your weekly peek behind doors left slightly ajar.
This week, the 42-year-old woman who loves sex with her husband so much that she "thanks God" for it: female, New York, business owner, straight, married.
Day One
8 a.m. We haven't had sex in a while, which for two Italians is like torture of the worst kind. But life gets in the way — my husband is having child-support issues with his ex-wife and I am trying for a big promotion at work, since I have my own kids with my own ex. We're both overemotional people, so stress can get the better of us. Anyway, this day we wake up already excited, already horny, knowing we have the evening to ourselves.
8:15 a.m. Husband starts rubbing me over my pajamas as we cuddle for a few minutes in bed, but I say I don't want to "do it" in the morning, because I want to save our energy for something extra intense at night.
9 a.m. Pretty sure he jerks off in the shower anyway, although he says he didn't.
3 p.m. I have a meeting where I initially feel like I killed it. But right after, I beat myself up about one stupid thing I said. Typical. I try to shake it off. I ask my assistant if I sounded ditzy when I said that one thing. She couldn't even remember me saying it. But I get so hung up on these things …
5 p.m. My man has a stocking fetish so I usually wear a hot pair of Wolfords with the line down the back and the highest slutty heels I own when we go out on date night, or what we refer to as "the closet night." This is one of those — we go out to dinner and then home for surprise playtime.
8 p.m. We're home from dinner. I go into my closet and cobble together some sort of outfit and emerge with a new identity. This night was a general slutty theme with (in addition to the stockings) heavy makeup, a feather boa, and a $200 La Perla bra I could never wear anywhere else because it holds nothing back or in.
8:30 p.m. He rips my crotch open. We make love for a while. I grab my vibrator while still on top of him and my head starts to dream of the nastiest fantasies I can conjure up.
8:45 p.m. I don't know if it's because we had so much pent-up sexual tension, but something happens that has never happened before — I have this rapid-fire multiple orgasm that only stops because he slips out. He slipped out because apparently I squirted all over him like a porn star. We can't stop talking about it! It was a major turn-on for him.
Day Two
8 a.m. Kids are up, he's up. I can't stop thinking about the night before, so I sneak back into bed alone with my little pink vibrator. I'm trying to be quiet because even though we are a very sexual couple, I still get embarrassed when he catches me.
8:30 a.m. The dog jumps on the bed and he walks in. I pretend to be sleeping so he'll leave and I can finish my business. Then, like a robot, I switch gears and hop on my BlackBerry. My boss is already annoying me and my assistant has already screwed something up. Let the day begin …
3 p.m. My life isn't always easy … I stress out about work all the time … but I find myself at least constantly thanking God for a partner I'm attracted to and love getting into bed with. I really don't understand these sexless relationships.
9 p.m. We kiss in bed and he says something like, "My sweet little squirter" and we pass out.
Day Three
8 a.m. We're throwing a dinner party tonight, with my kids and his kids, so it's all work and no play today.
12 p.m. As he prepares homemade pasta I feel a tingle downstairs. I can't say it enough, I am so turned on by my man. I'm probably going to hell, but I've thanked God for his beautiful penis, more than once.
8 p.m. The party goes off without a hitch. My friend told a story about a guy with no dick and humongous, life-size balls! It was hilarious. Perfect dinner-party banter if you ask me. But you probably don't want to ask me. Most important, everyone is well fed.
10 p.m. We do the dishes and analyze all our friends from the night. I'm constantly studying people who don't let work consume them. Is it that their jobs aren't meaningful … or that their jobs are easy … or their jobs are just as hard as mine and they are better equipped to deal? I literally only think about my kids, my husband, and my work.
11 p.m. We crawl into bed. My guy goes down on me as a thank-you for being such a good hostess.
Day Four
8 a.m. We're cranky, hung-over, and exhausted from the party and the wine, plus the kids were all over us all day long. No sex or fooling around today. Although my husband jerked off in the shower — which he admitted this time. Good for him.
3:30 p.m. I get a haircut and fall asleep during the blow-dry part.
Day Five
6:30 a.m. I get up a little early and go to the bathroom to brush my teeth and freshen up, and then climb into bed next to him, naked. I spoon him from behind, rubbing my hands all over his chest, which immediately turns ME on. Feeling his muscles, smelling the back of his neck, it just makes me lose myself.
6:45 a.m. My hand caresses downward inside his pajamas and starts to wake him up. His morning wood is amplified by his need to pee. My hand continues to stroke him and then he rolls over on his back and I climb on top. He keeps his eyes closed while I rock softly so we don't wake the kids or dog.
7:15 a.m. We wake the kids like nothing happened, although my underwear is drenched. I try not to ask myself if I'm a "normal" mother. What is normal, anyway? The best thing I learned from an old therapist was never to compare myself to anyone else — never ever. I haven't been to therapy in years …
8 p.m. It's an uneventful night, sexually. Not that we're counting, but when we've had one hard orgasm during the day, we usually don't need it at night.
Day Six
10:30 a.m. My husband texts me that he's horny at work. He sends a picture of his bulge. I giggle then erase immediately. My work is way more corporate than his. That shit would get me fired.
11 a.m. I get a little jealous thinking about all the women he works with. They must know he's good in bed. Women have an instinct for that stuff, don't they? Plus, he's dark and Italian. How could he not be an amazing lover? Even if I get jealous sometimes, I know none of them could satisfy him like I do.
12 p.m. I suggest we meet at a midtown hotel for a quickie. I know we won't, but even suggesting it turns us both on. Instead, I take a client out to Indian food for lunch. I wonder if the client is being as phony as I am. Probably.
2 p.m. Post-lunch, I check my texts. "I'll see you at our 8pm appointment Dr. Whore," writes hubby. That means we're going to play shrink/patient tonight. We love that game. I pretend to be his shrink and he confesses all his sexual issues and desires to me.
7 p.m. Frozen pizza for the kids, leftovers for us. Homework, TV, chaos, the usual loud, Italian-family insanity.
10 p.m. Faux therapy session begins. Me: "So tell me, what's on your mind tonight?" Him: "I've just been feeling so much tension inside." Me: "Is this where you hold your tension? Is it okay if I touch you there …" Etc. Really hot. Results in an epic blow job.
Day Seven
No sex, no fooling around all day. Just a lot of laughter and fun. My friend with the big-balled boyfriend called to say she's going to break up with him. "Why can't he have a huge weiner and no balls?" I tell her life isn't fair, and then wink at my man heating up some manicotti.
Want to submit a sex diary? Email sexdiaries@nymag.com and tell us a little about yourself.