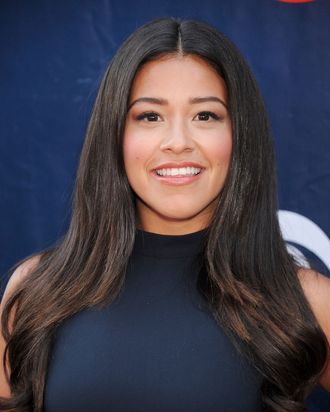 Gina Rodriguez.
Photo: Gregg DeGuire/Getty Images
Last week, Jane the Virgin star Gina Rodriguez posted a picture of her People en Español cover on Instagram with a caption partly written in Spanish. The child of Puerto Rican parents, Rodriguez — who is not a fluent Spanish speaker — was shocked by the virulence of the response from followers, who criticized her grammar and even questioned whether she was really Latina. She called out the haters in a follow-up post wondering why people are so willing to be mean on social media. The Cut caught up with Rodriguez while she was hosting the Crest 3D White Brilliance Two-Step launch party to hear her thoughts on Instagram, intra-racial turmoil, and why it's better to be an ant than a crab.
I think that women should uplift women. I think that cultures should uplift cultures. [Latinos] are seen in this country as one, so if we're not one, then we become a disintegrated, non-structured, non-powerful unit, instead of being a unit of strength and power.
To me, it's the "crab in the barrel" effect. You can be a crab in the barrel and pull down the other crabs so nobody gets to the top, or you can be an ant in an ant farm, passing the food to the next person. When you get to the ant hole, everybody freakin' eats. It's about creating unity. In the Latino community, there is intra-racial racism that's going on. I had it just on my Instagram the other day. That was so eye-opening and terrifying at the same time, because I don't dislike somebody from another Latino culture.
What are we doing to ourselves? I don't want to live in a world alone. I want to create possibilities for myself and for others — and not just for others that are exactly like me.
There's no part of me that wants to be mean to somebody who speaks fluent Spanish. It's either, "Oh, you think you're so Latina because you speak perfect Spanish," or "You don't speak Spanish at all. You aren't even considered Latino." What does that make you — stronger than someone else? No, you get nothing out of it. It's just a reflection of your own pain.
At the end of the day, we all want the same things. We all want love. We want success. We don't want to fail. We want to be accepted. We want that beautiful guy or that beautiful girl and that beautiful home and that perfect little baby. It doesn't matter what ethnicity you are or what religion. When you're mean to somebody, you're in pain. That's all it is.
About this Instagram thing: Forget about me. I'm going to be fine. I know how to decipher those negative comments. But what about the little girl that doesn't? What about the little boy that doesn't? What about the girl that's giving me this backlash? How much pain is she in, and how do we fix that? How do we mend that?