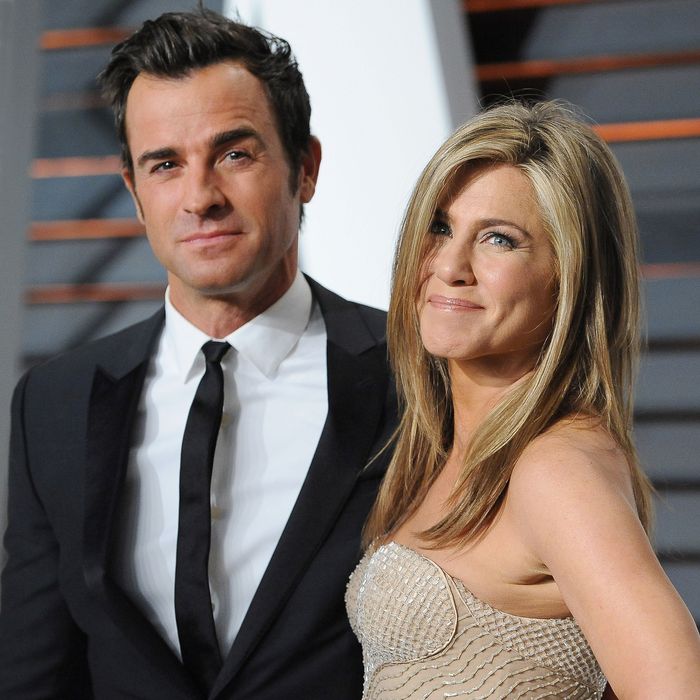 Justin Theroux and Jennifer Aniston.
Photo: Jon Kopaloff/FilmMagic
As a people, we haven't always been nice to Jennifer Aniston. When she got divorced, tabloids spent years wondering, "Why couldn't she keep Brad?" And then it was all, "Poor Jen, forever alone with her money and her great skin." Even when she finally found a worthy recipient of her love — a handsome one, who is weird enough to be friends with Amy Sedaris — it wasn't enough. Tabloid headlines continued to predict the demise of her relationship with Justin Theroux throughout their courtship, despite their engagement in 2012.
Now it's time to come to terms with our bad behavior. In a summer full of major celebrity breakups, we really needed a wedding — something to remind us that love exists and people can be happy. But as penance for decades of dragging her love life through the mud, Aniston disguised her wedding to Justin Theroux as a "44th birthday party," invited friends like Sia, Emily Blunt, and Chelsea Handler, got a wedding cake with Muppet bride and groom toppers, and wed without even showing us the dress.
Revenge, it seems, is a dish best served cold with a wedding cake we will never see — well, not until the People exclusive.