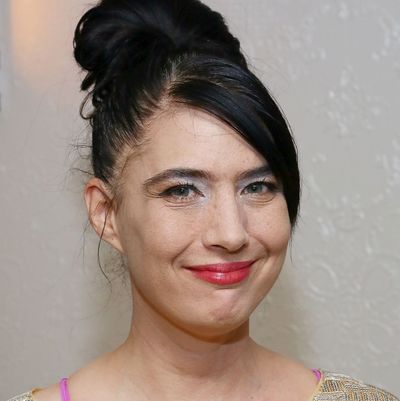 Kathleen Hanna.
Photo: Astrid Stawiarz/2013 Getty Images
In advance of the reissue of Bikini Kill's 1991 demo tape Revolution Girl Style Now!, Rolling Stone chatted with front woman Kathleen Hanna and band member Kathi Wilcox about the riot grrrl legacy and feminism today — including a conversation about the wave of mainstream artists who have declared themselves feminists.
Does it cheapen the movement when Taylor Swift or Beyoncé, whose feminist declarations were met with some eye-rolls, identify with it? Hanna, who told the interviewer that "feminism is more relevant than ever," absolutely doesn't think so:
It's totally amazing. I remember back in the Nineties being like, "We're being commodified," so I understand people being like, "We don't want feminism to become this fashion that has nothing behind it." But I'm not really worried about that. When somebody that's a huge megastar that has so many young fans, like Taylor Swift or Miley Cyrus or Beyoncé, comes out and says, "I'm a feminist," I mean, that's the sound of hundreds of thousands of girls typing the word into the Internet.

I found punk through this late-night TV show called Night Flight that was on in the Eighties. I wasn't in a punk-rock scene; I listened to Lynyrd Skynyrd and stuff, so the way I found punk was through the mainstream. And just because they're pop stars doesn't mean they're not human beings, you know? They're using their notoriety to do something, and that's awesome.
It's cool that Hanna, whose music was so intertwined with feminism and inspired so many, understands how that's  happening again now — just with more Auto-Tune and choreographed dance moves. I wonder how many girls will type "Kathleen Hanna and Feminism" into the internet once that collaboration with Miley Cyrus manifests.