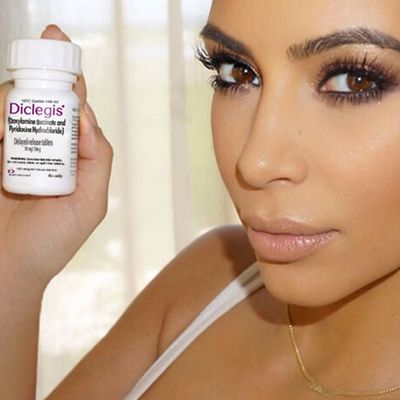 Photo: Kim Kardashian/Instagram
Now that your Instagram and Twitter feeds are clogged with celebrity photos from the VMAs, Kim Kardashian has something very important to tell you: Do not take Diclegis if you are allergic to doxylamine succinate, other ethanolamine derivative antihistamines, pyridoxine hydrochloride, or any of the ingredients in Diclegis. You should also not take Diclegis in combination with medicines called monoamine oxidase inhibitors (MAOIs), as these medicines can intensify and prolong the adverse CNS effects of Diclegis.
The FDA sent the makers of Diclegis a warning letter in mid-August chiding them for Mrs. West's Instagram post not including a proper warning information about the prescription drug, and now she's trying to make good. She Instagrammed a new post about the morning-sickness drug Diclegis right as the VMAs were starting, guaranteeing that everyone would see it and nobody would remember it.
We have two deeply important, painstakingly researched theories on Kim's curious timing: Either she's attempting to rebrand the classic news dump and hoping her post will get buried in VMAs clutter, or she's trying to make good with the FDA and hoping even more people see it as they flock to her account to check out her VMAs outfits. Either way you look at it, she's a #socialmediagenius.