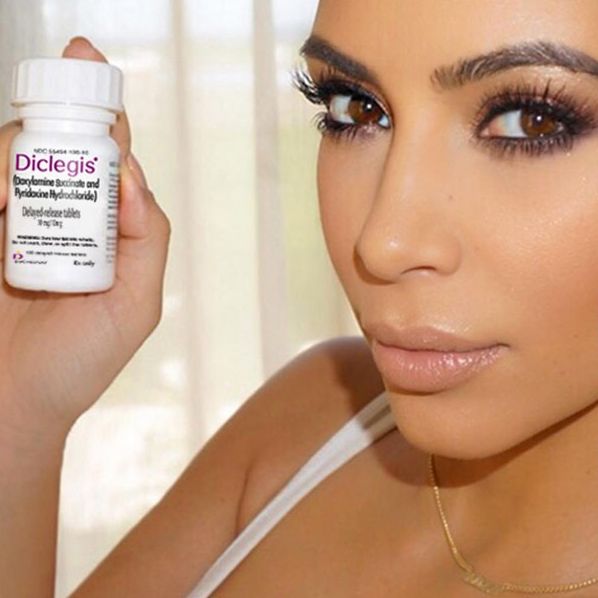 Photo: Kim Kardashian/Instagram
Last month, Kim Kardashian posted a photo endorsing morning-sickness drug Diclegis on her Facebook, Instagram, and Twitter accounts. It prompted a flurry of comments both about her seeming hypocrisy and concerns that the drug wasn't safe for pregnant women or their babies. (As we reported, experts believe it's safe for most women.) The FDA has an opinion about that photo, too: CNBC reports that the agency sent a warning letter to drug-maker Duchesnay on Friday requesting that the post be removed because it suggests the drug is safer than has been demonstrated.
In the caption, which the FDA reproduced in full, Kardashian said the drug has "been studied and there was no increased risk to the baby" before suggesting women talk to their doctors and, finally, including a link to the drug's website plus a second site with safety information. The FDA says that's not enough — the caption doesn't list any risks or limitations of use. The agency says Kim's post should have mentioned several things included on the FDA-approved product labeling: that the drug hasn't been studied in women with a rare form of morning sickness called hyperemesis gravidarum, it should be used with caution in women who take certain meds, and that it's meant for pregnant women whose symptoms don't respond to other treatments.
The FDA's Office of Prescription Drug Promotion has been paying more attention to social media in recent years — it has even created specific guidelines for the promotion of regulated products — but social posts are not approved in advance, says Christina Markus, a partner with King & Spalding LLP in Washington, D.C., which advises pharmaceutical companies on FDA compliance. Markus, who also serves as deputy chair of the firm's FDA & Life Sciences Group, adds that companies must submit marketing materials for review when they're first distributed; the agency reviews them as it has the time and inclination. Messages can also be flagged as part of the FDA's Bad Ad program.
Per the warning letter, Kardashian's post was both reviewed and flagged externally. The FDA has requested that Duchesnay respond by August 21 with a plan to issue corrective messaging on the same media — and here's the kicker — "to the extent possible." Does this mean, as some outlets have speculated, that Kim might post about Diclegis again? "It's a very interesting question and one where there's not necessarily a clear statute," Markus says, even though it's not uncommon for celebs to stump for pharmaceutical companies. "But the letter is addressed to the drug maker, which suggests that the FDA will look to that entity for action."
Markus says the FDA's goal will be to have the correction reach the same amount of people as the original posts did, but even without re-promotion to Kim's 100 million plus followers, Duchesnay can make good in other ways, including advertising. The company paid Kim to post about its product, and now it may have to shell out even more to address the fallout. Unless, of course, Kim feels obligated to help. Either way, the campaign was by no means a bust: Online conversations about Diclegis are up 500 percent since July, according to internet intelligence company Treato. The Kim Kardashian Effect has officially hit prescription drugs.