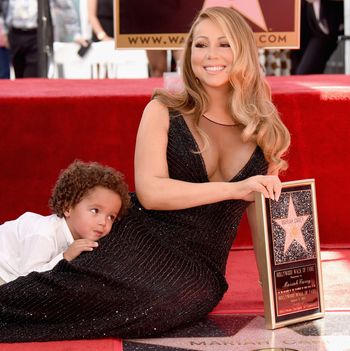 Photo: Jeff Kravitz/FilmMagic
Every now and then, the world reacts to children like it doesn't know what children are. This is curious, considering that the world's population is made up entirely of children and former children. The world also seems confused by mothers, as if it doesn't understand the multilayered roles and demands placed on them. This is odd, considering that most of the world's population spent the first decade of their lives in close contact with a mother.
Put children and mothers together and the room starts to spin. These bizarre creatures are puzzling and problematic! Why do they act that way and make those sounds? Someone must be doing something wrong!
Mariah Carey got a star on the Walk of Fame on Wednesday, but all anyone could talk about was her 4-year-old twins, Moroccan and Monroe, who had the audacity to be tired and bored at a lengthy outdoor presentation held in the heat of the summer. They wriggled in their seats. They covered their ears. Little Moroccan, whose name is technically a modifier, modified Mariah's photo-op by briefly rushing over to hug her.
Coverage of Mariah's big moment was dominated by her son's momentary interruption. "Who is this small person, and why is he acting like he's dependent on this woman for his survival?" blurted the amnesiacs charged with documenting the event. According to Fox News, the twins "didn't seem too impressed" with the presentation and "hilariously stole the show." The Daily Mail announced that Mariah's "role as a mother overshadowed the career high." TMZ's headline blared, "MY SON JACKED MY WALK OF FAME MOMENT!"
Somehow shots of celebrities and their children frolicking in the park or vacationing in the South of France are embraced and adored, but the second you introduce children to a context associated with your professional career, you're messing up. The implication is that small people are not an appropriate professional accessory. Accessorize with your beau, the press implies, since he's less likely to yawn or wriggle or grab your boob while the cameras flash.
Our culture is wildly ambivalent about mothers and kids. The press alternates between glorifying motherhood and mothering (JEN ANISTON: BABY BUMP OR BREAKFAST BURRITO?) and painting mothers as pathetic, indifferent, sad, or desperate (LOOK, SAD JEN GARNER WITH HER KIDS, BECAUSE BEN PREFERS THE NANNY). The alternating praise and condemnation, the undercurrents of judgment, the neutering of mothers ("Is that skirt appropriate for a mother?" judge Nina Garcia of Project Runway once asked, apparently believing that anyone who's ever had a child should don a burka forever), the substitution of the word mom for a name in summing up a complete stranger — it all adds up to a warped cultural view of what it means to be a woman who has kids. 
Rather than rushing to judgment, let's allow for a second that women with kids are just human beings going about their business like anyone else. Motherhood and professional careers aren't two armies clashing in the night. Our kids don't overshadow our career highs, and our career highs don't overshadow our kids: That's the culture's narrative, not ours. We're working it out, day by day. We are citizens of planet Earth. We have small, temperamental, needy people surrounding us much of the time. We love the little bastards, we really do. We come in peace.