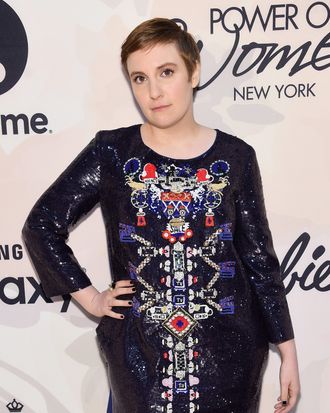 Lena Dunham.
Photo: Jamie McCarthy/Getty Images
Lena Dunham's project Lenny, a newsletter about "feminism, style, health, politics, friendship," and various other issues, isn't scheduled to debut until fall, but like coats in department stores, it's here now anyway. A preview was sent to subscribers this morning, containing an interview Dunham conducted with Chenai Okammor, a close friend and collaborator of the late Sandra Bland. In July of this year, Bland was pulled over by Texas police for switching lanes without using a turn signal. Three days later, Bland was found dead in her jail cell and medical examiners determined the cause of death to be suicide by hanging.
With an introduction by Doreen St. Félix about the impact of police brutality on black Americans, the interview with Okammor asserts that the story of Sandra Bland's life and death is not finished being told. Okammor gives Dunham necessary background about a site called Woman4Woman that Bland and Okammor were getting ready to launch prior to Bland's death, a site that features and celebrates women's stories. Woman4Woman's mission, as described by Okammor:
What if every woman had somewhere to go? Someone to talk to? Worldwide. I'm from Zimbabwe and with our diaspora, I have cousins all over the world. So a whole bunch of them came here last summer. And I realized that just in my family alone, everyone has a thousand stories, and I wanted to give them a space to tell those stories.
Dunham and Okammor also touch on the furor surrounding Bland's death and the lack of humanity that contributed to her arrest in the first place. Dunham shares her opinion, saying that no matter what happened to Sandra Bland in her jail cell, "it's still murder because they've had their humanity taken away from them," a point on which Okammor co-signs:
Oh my goodness. Lena, Lena, Lena. You hit it with that line. If people can say all the things that they're saying and sleep with themselves at night, then we've got a bigger problem than we realize. Because if it were their child, their relative, their sister, their friend, their colleague or whatever, they would never have it looked at it that way. However, it shows more the amount of work we still need to do.

And you know it's always the women who hold up the country in times of war. It's the women who hold up anything or everything. That's why we're doing this.
The interview is a strong start for Lenny, especially as it shows its commitment to promoting other exciting projects helmed by women. Lenny Letter will still officially launch this fall and any interested parties are welcome to sign up here.