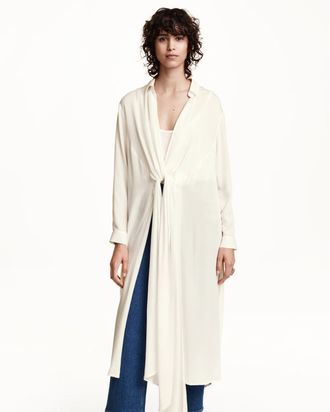 This week at the Cut, we're highlighting cheap end-of-summer thrills.
Welcoming autumn into your wardrobe doesn't always mean layering — you can also start with longer versions of your summer staples, like this versatile, drapy shirt from H&M. Its creamy white fabric will go past your knees, so it's perfect for those lazy mornings when you just want to wear a robe. Try it as a baggy cover-up at the beach, or on top of a simple slip. Then when fall rolls around, tie the waist tight and pair it with jeans, boots, and maybe even a scarf.
Long Shirt, $59.99 at H&M.