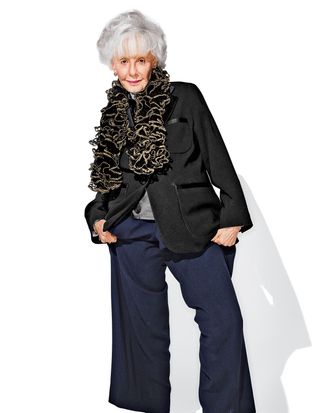 "I was married to one of the world's greatest photographers, Milton Greene."
Photo: Bobby Doherty/New York Magazine
Amy Greene, Former Glamour Beauty Editor, "85-Year-Old Wonder"
Do you always mismatch your socks? Yes, it brings attention to the feet and away from my face! Believe it or not, I get them at souvenir stores on Broadway when I'm going the theater. I'm always at the theater, the ballet, the opera, the movies. Last year, I saw 1,049 movies. But I don't like computers.
How come? Email is the last thing I want! Not to be a name-dropper, but Nancy Sinatra has been saying that I have to get on email. She's a good friend: One time, we were all at dinner in Las Vegas and Nancy asked me to tell everyone at the table, including her father, about the time when I was 9 and first saw him. So I explain how I was at a Tommy Dorsey show with my mother, and I don't know what was going on in my little body, but when I saw Frank, I started trembling. It was either a religious or sexual experience. So I tell this story, and Frank very quietly gets up, comes around the table, holds my face in his hands, and says, "I'm so glad I was the first."
Lightning Round
Claim to fame: "I was married to one of the world's greatest photographers, Milton Greene."
Boyfriend? "I have gentlemen callers, but I'm out of the vagina business."
Currently reading: The Barsetshire series, by Trollope. "Norman Mailer was a good friend, but I don't like contemporary fiction."
Breakfast: "Three Cuban crackers and a pot of tea."
*This article appears in the August 10, 2015 issue of New York Magazine.