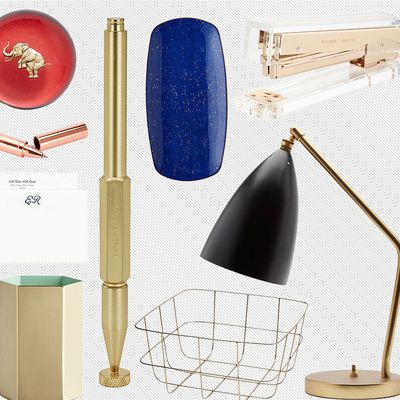 You spend a lot of time at your desk, so it makes sense for your work accessories to reflect your excellent taste. Take Rab Labs' desk tray, which has an ancient agate stone in the center — much more elegant than stacking all your mail and notes in a messy pile. Or try a sleek brass Tom Dixon pen that stands on its own, making it as fun to look at as it is functional. Click ahead to see all the ways to boss up your office space.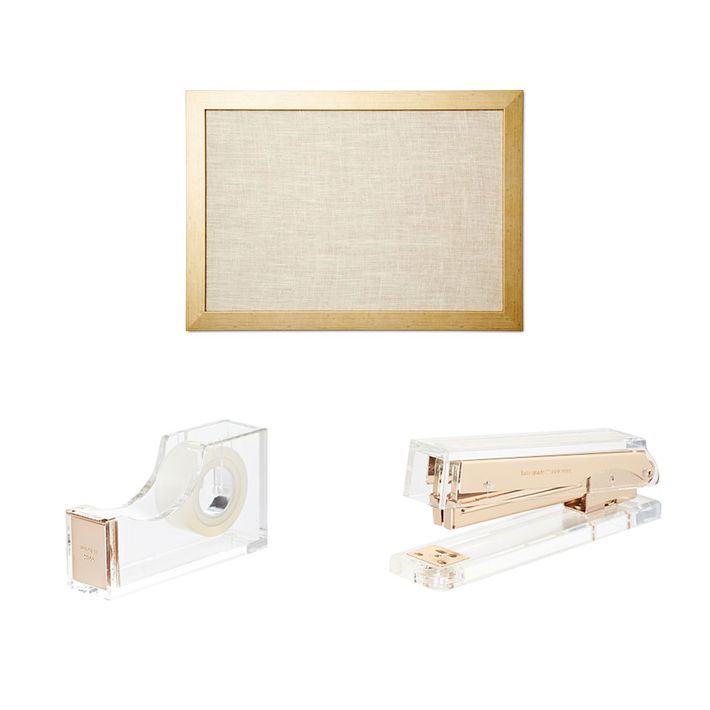 Add Some Glamour to Your Basics
Upgrade from the Swingline stapler you're given at the office. Kate Spade's affordable office supplies, like this gold tape-dispenser and stapler, lend a little dazzle to your desk. And for important papers, add this Barnwood bulletin board to the wall.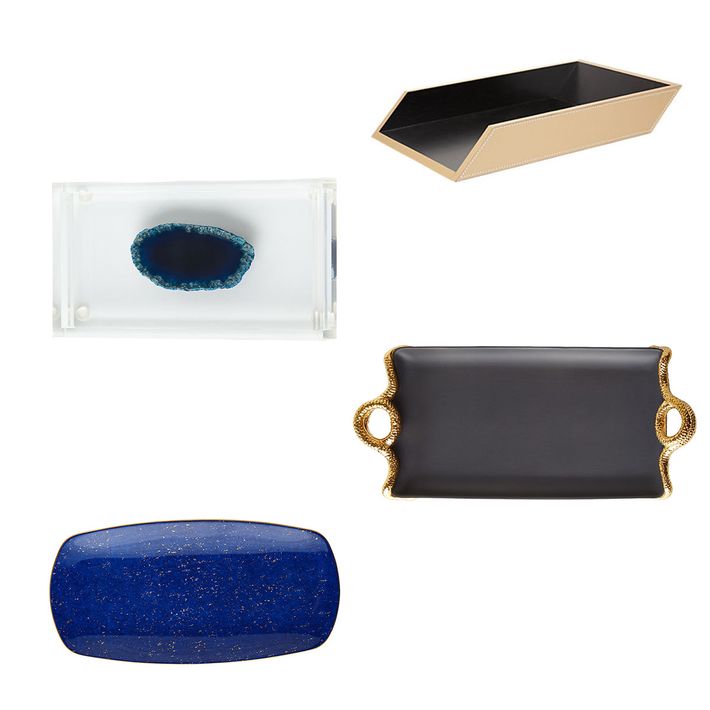 Invest in Some Pretty Trays
In college you used binders, but say hello to their much chicer sister, the tray — perfect for holding everything from paperwork to jewelry. L'Objet's beautiful lapis rectangular tray is a great investment, while Arte & Cuoio's leather-covered wood tray makes a minimalist statement.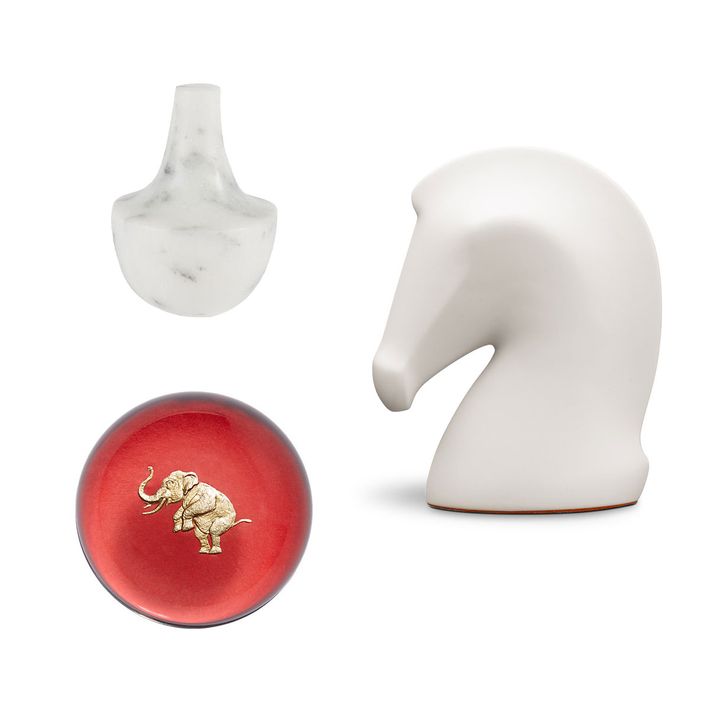 Hold It All Down With Paperweights
Connor's elegant paperweight has a hand-engraved stamp, while this lacquered wool option from Hermès feels both modern and classic. There's no better way to add some personality to your desk without taking up a lot of room.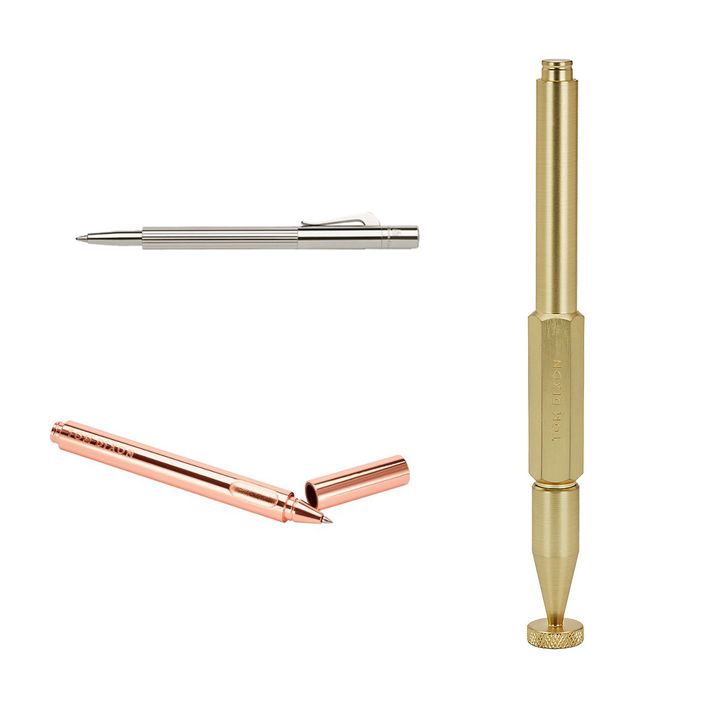 Professionalize Your Pens
Tell the world you take note-taking seriously by upgrading from your drugstore Bics. Graf von Faber has a platinum-plated pen-pencil hybrid, while Tom Dixon's stand-alone brass pen is decorative and useful at the same time.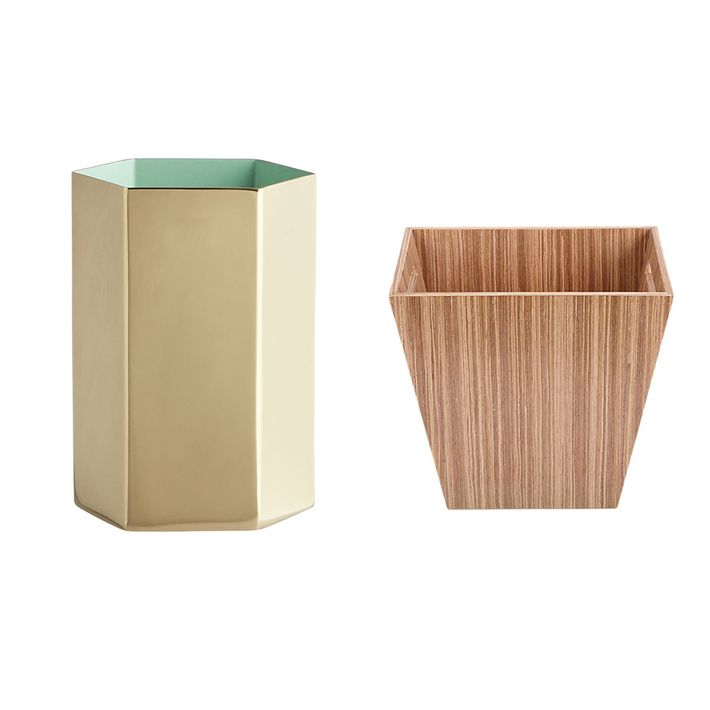 Use Proper Cylinders
Bins and cylinders are an easy place to add texture without reducing function. Swap your old coffee cup pen-holder for this steel pencil cup from CB2, and trade your plastic wastebasket for iWoodesign's mini walnut bin.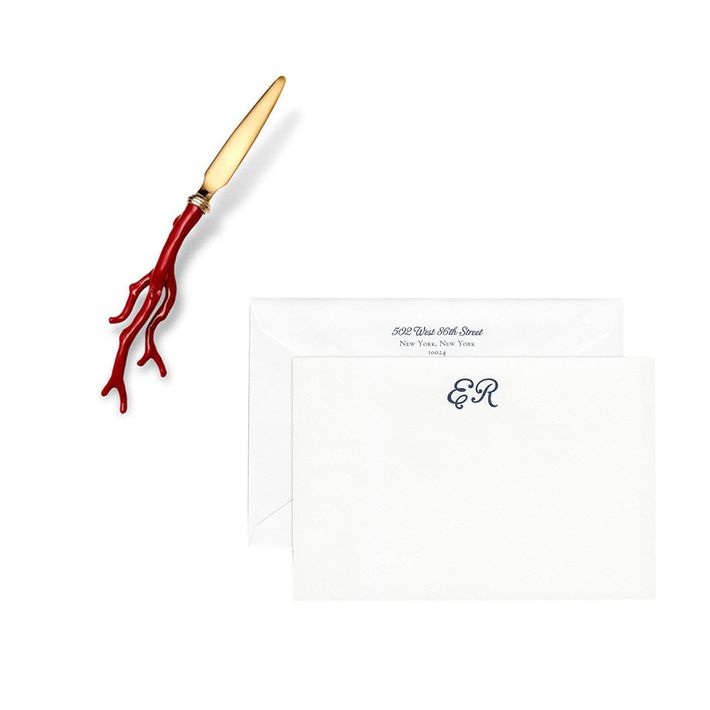 Buy Individualized Stationery 
Personalized stationery is a crucial "I'm a boss" accessory. Crane is expensive, but has a wide range of styles and colors to match your personality. While you're at it, add a letter opener like this coral one from L'Objet.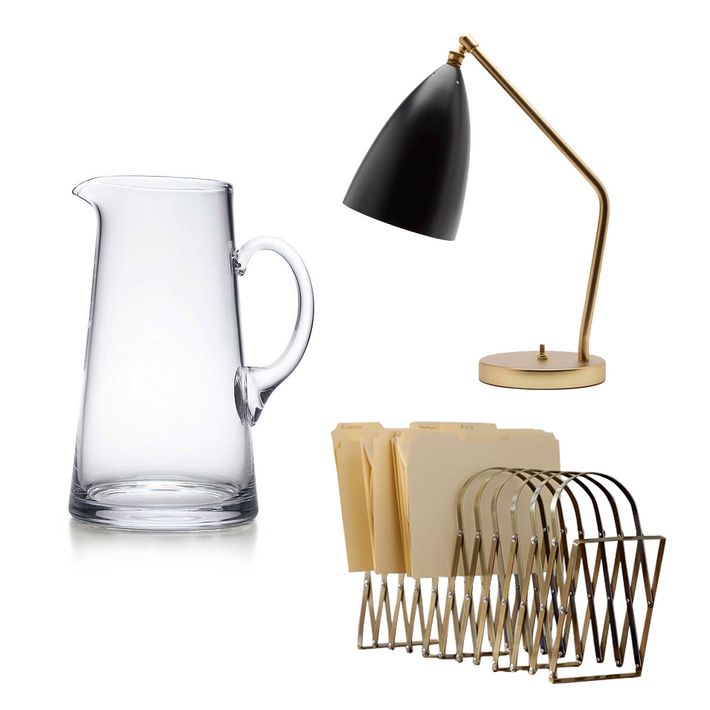 Upgrade Your Essentials
Imagine how much more pleasant work would be if all your essentials were beautiful. Pour water out of a minimal pitcher from Tiffany, organize file folders with a gold storage set like this one from Pottery Barn, and bring in the light with a modern desk lamp from Gubi.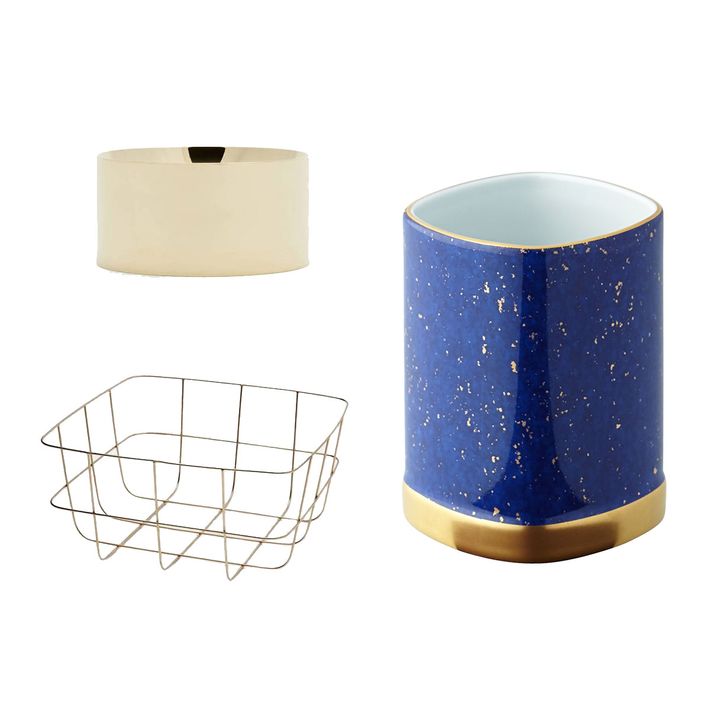 Minimize Desk Clutter
Sometimes it's easiest to buy general organizers and figure out a system for yourself. If that approach speaks to you, try using Minimalux's brass band to contain miscellaneous objects or fruit, or Base 212's set of wire baskets for heavier items like magazines, mail, and utensils.