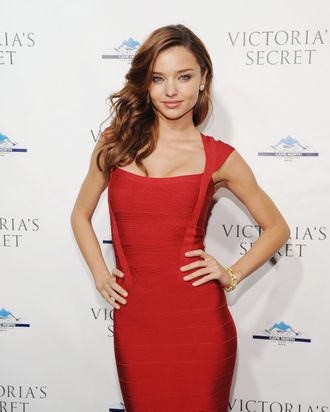 Photo: Dimitrios Kambouris/Getty Images
Well, isn't this novel: Yet another man in the fashion industry attempting to legislate what women can and cannot wear. In an interview with the Mail on Sunday, Patrick Couderc, of MJH Fashion, which distributes Hervé Léger in the U.K., had some choice words about the brand's most recognizable product, the Bachelorette-beloved bandage dress. "Voluptuous" women or those with "very prominent hips and a very flat chest" should not wear the style, he told the paper. Also not on his list of desired customers: "Committed lesbians" who are apparently too "butch and leisurely" to pull off the look. Margaret Cho was one of many to respond on Twitter, writing, "Fuck fashion and 'designers' that body shame @HerveLeger #wecanwearwhateverthefuckwewant #boycottherveleger."
We reached out to a rep for Léger, who told us that Courderc is no longer associated with the company. What follows is the official statement from the brand:
The Herve Leger by Max Azria brand and its parent company, BCBGMAXAZRIA Group, are shocked and appalled by Patrick Couderc's comments made in the Mail on Sunday. BCBGMAXAZRIA Group is working in concert with MJH Fashion, the London-based licensee of the Herve Leger brand, to investigate and establish appropriate next steps. The statements made by Mr. Couderc are not a reflection of Herve Leger by Max Azria or MJH Fashion ideals or sentiments. The Herve Leger by Max Azria brand celebrates sensuality, glamour and femininity without discrimination.
As if it needed to be said again, you can wear whatever the hell you want.