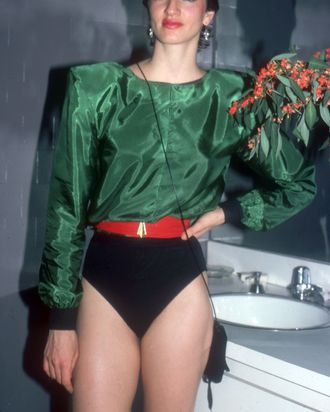 Photo: Rose Hartman/Getty Images
[…] Marc Jacobs is hosting a party during New York Fashion Week for the release of "Gloss," a new book about the work of famed 1970s photographer Chris von Wangenheim. Invitations, which were recently sent out, detailed — in ALL CAPS! — Jacobs' absurd dress code requirements. —Gawker
I was indulging in my morning flat white when a matte black envelope that smelled like regret was slid under my front door.
"Oh?" I gasped. "An envelope? Pour moi?"
I rushed out of my seat at the kitchen counter to grab it, almost slipping backward from the lack of traction connecting socks to floor. Must buy gripper socks soon, I murmured into my rose-gold Apple Watch. Will wear to NYFW — blow everyone out of water. Socks with sticky grips, in the Five Below style. This is the fashion for fall. 
Perhaps the excitement over my new idea had me whipped into a fervor, or maybe it was the lack of sticky bits on my soles, but as I glided back to the counter, crushed envelope in my fist, I had a little oopsie-daisy. My hot flat white (almond-milk base) spilled down the counter, all over my midi rings and neutral manicure and onto the envelope, permeating the paper's surface and leaving my face tarnished by an ugly smize. Liquid pouring everywhere, scalding my nimble digits, I shredded open the envelope before any more damage could be done.
Dear Dayna, it began. You are invited to the Marc Jacobs–hosted Gloss book party celebrating the work of Chris von Wangenheim, it continued. What next? Do go on. Darling, I'm listening! 
My eyes darted downward. The text that used to be there was now drip-dyed and waterlogged, something like word spaghetti without the spicy meatballs! I saw "LINGERIE" and "BLEACHED EYEBROWS" and "RIDING __ HORSE," and a scramble of other letters that hardly made up sentences. "MATTE SURFACES" was clear as day, and so was "SKY HIGH," but for all the beauty I could be taking in, I saw nothing and nothing saw me. Surely, this dress code — I could make out the very beginning "DRESS __ KILL COD_" — was one for high glamour and thrills, and now I would never know what it was. I, it appeared, would not be dressed appropriately for the party.
But that hasn't stopped me before.
Undeterred, I spoke my daily affirmation — "You DO belong in fashion. You DO belong in fashion" — and threw the invite in the trash. I'm sure I could approximate an outfit similar to what MJ wanted. After all, I belonged in fashion, dammit.
The week passed as normal: thrice-daily cocktail meetings at the Polo Bar, several trips to Five Below, and three published editions of my fashion column, "What to Where: Wearing What You Want Wherever You Go." Peppered in-between my weekly activities, I acquired all the parts to my outfit for the party from the most chic of boutiques, knowing that my intuition would not lead me astray. After all, I was the Greater New York area's most respected fashion blogger according to my cousin Sherri. I could figure this out.
The night of the party arrived, and I consulted my closet and my new purchases to begin constructing my look. Within the hour, I knew My Look™ was complete. I sashayed in front of the mirror and felt quite certain that I was ready to go. I was wearing, with little apprehension:
-A MERMAID TAIL
-FOUR VINTAGE PEPPER SHAKERS STUFFED INTO A BRASSIERE
-TED CRUZ BITCHFACE
-YOUR MOTHER'S CHECKBOOK
-A WINE GLASS FILLED WITH PUDDING
-THE URL TO THE MOST OFFENSIVE SUBREDDIT, STAMPED ON A CD-R AND WORN ON A PINKY FINGER
-WINNIE THE POOH ON TOP AND DONALD DUCK ON BOTTOM
-THE KEYS TO AN IMPOUNDED LAMBORGHINI
-LIPSTICK (SANS LIP) 
You look fantastic, darling, I thought as I glanced back at my reflection. But there's just one thing missing.
Reaching into the depths of my miniaturized walk-in closet, I found a shoebox marked For Special Occasions Only. I smiled as I pulled out the last element I'd been waiting for, the icing on the cake, the piece that would make the Olsen twins themselves quake in their caftans with envy. Nestled within the box were my favorite, my beloved, my incomparable FLAT SHOES. I slipped them on and bounced giddily into the night. With a dress code to kill, I had definitely killed it.
Post-Script:
I was flatly turned away at the door.