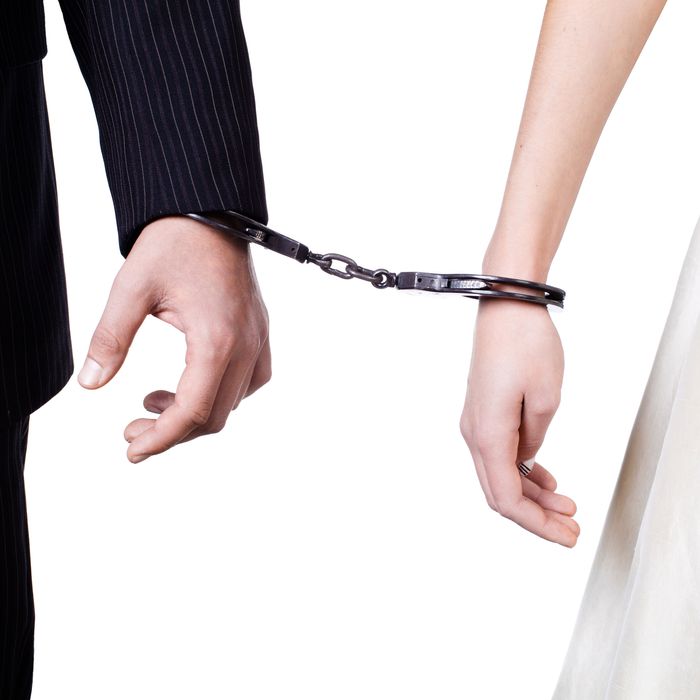 Photo: Kamil Cwiklewski/Getty Images
After punching the ex-boyfriend of his current girlfriend for "saying disrespectful things," a man in East Texas was given two options by a criminal court judge: Either go to jail for 15 days, or marry the woman he was so eager to defend. Hm, what do we think he chose?
According to a report by KLTV, Josten Bundy was in court with Judge Randall Rogers when he was handed down the matrimonial ultimatum. Rogers had asked Bundy if his 19-year-old girlfriend, Elizabeth Jaynes, was worth the fight and the court date, to which Bundy gave this answer:
"I said, well to be honest, sir, I was raised with four sisters and if any man was talking to a woman like that," recalled Bundy,  "I'd probably do the same thing."
As a condition of Bundy's probation, he was forced to marry Jaynes within 30 days or straight to jail he'd go. No wedding planning, no white dress, just straight-up tying the knot to forestall a jail sentence. Bundy's forced bride, when asked for comment by KLTV, said, "My face was so red, people behind me were laughing. [The judge] made me stand up in court."
Jaynes said she was a huge fan of Say Yes to the Dress, adding: "It just felt like we weren't going to be able to have the wedding we wanted. It was just going to be kind of pieced together, I didn't even have a white dress." But because of Bundy's hot temper, the wedding couldn't be stopped:
"My father didn't get to go, and that really bothers me, I know he would have liked to be there," said Bundy. "None of my sisters got to show up, it was such short notice, I couldn't get it together." 
Jaynes and Bundy are now married, and his girlfriend ostensibly saved him from jail time. His probation also includes transcribing Bible verses and getting counseling. Congratulations to the happy couple, we guess?