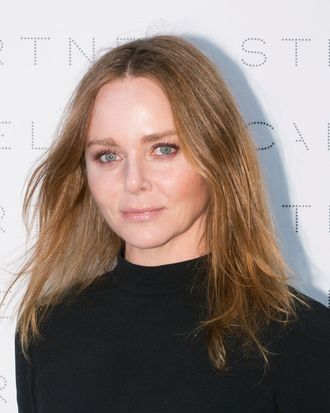 Photo: Alfie Goodrich/Getty Images
Stella McCartney is fashion's most prominent animal-rights advocate, committed to using alternatives to leather and fur. And at her pre-fall presentation, she proudly spoke about using sustainable Patagonia wool. So when she saw PETA-provided footage of sheep being mistreated at one of the Argentine ranches where she sources said wool, she immediately spoke out on Instagram. Said the designer, "I am very saddened to report that we have had to cease sourcing some of our sustainable wool from Ovis 21 in Patagonia. It was born as an amazing initiative to help protect a million acres of endangered grasslands in Patagonia whilst looking after the welfare of animals. Unfortunately, after conducting our own investigation in Argentina, following a very distressful viewing of footage provided by the great guys at @officialpeta, we found out that 1 of the 26 ranches we used source sustainable wool there, mistreated its sheep. It is one too many."
In a follow-up post, she added, "As a designer who built a brand on not using leather, fur or animal skins in its designs, I can't tolerate it! I am devastated by the news but more determined than ever to fight for animal rights in fashion together and monitor even more closely all suppliers involved in this industry to end all innocent lives. We are also looking into vegan 'wool' as well, in the same manner we were able to develop and incorporate high-end alternatives to leather and fur over the years."
Patagonia posted a statement on their own Instagram account, which reads as follows:
The video released by PETA showing animal mistreatment in the network of ranches where we source our wool is shocking and saddening. We have accepted responsibility and apologize for the harm done in our name. There is no excuse for violent shearing methods and inhumane slaughter.

We hold ourselves to the highest standards, constantly seeking to improve our efforts to be the most sustainable, least harmful to the earth or its animals. Our statement described the disappointment we feel in seeing this disturbing video.

In the statement, we also outline areas where our beliefs differ from PETA's, and explain some ways the video is misleading. Our partnership with Ovis XXI is built on a radical approach to growing wool, and it's been a significant and engaging project for us, one we are fully committed to.

Finally, the statement outlines Patagonia's progressive work in recent years to ensure animal welfare in our wool supply chain, including moving away from the cruel practice of mulesing and leading development of a new global standard for the human treatment of sheep in the wool industry.
It's not the only fashion controversy recently instigated by PETA footage: After seeing its video of a crocodile farm, Jane Birkin recently asked Hermès to take her name off the Croco version of her namesake Birkin bag, and the organization subsequently bought a small activist stake in the luxury fashion house.