Photo: Courtesy of Ex Nihilo
For evidence that the perfume industry hasn't changed much in decades, just take a walk through the perfume floor of a typical department store. The Perfume Cowboys may be slightly less prevalent, but the same marketing techniques still apply: salespeople shouting "Burberry!" "Chanel!" (and occasionally "Bieber!" "Swift!") and trying to convince shoppers to buy the latest concoction via nasal assault. While the introduction of synthetics into perfume-making has yielded some technological progress, perfume companies can be hesitant to talk about it, fearful of dispelling the myth that every element in your fragrance is distilled from rose petals personally stomped by a perfumer in Grasse.
Enter Ex Nihilo, a luxury French perfume cooperative looking to shake up the conservative perfume industry — beginning with a perfume-making robot called the Osmologue. The company's three Parisian founders, Sylvie Loday, Olivier Royère, and Benoît Verdier, hope to do things differently. They launched with eight new scents, none of which are inspired by love, seduction, or any of the other themes perfumers usually reference. Instead, there is Vetiver Moloko, which is based off of the milk narcotic cocktail in A Clockwork Orange, and Fleur Narcotique, a scent that twists the flowery notes of neroli to become slightly metallic and druggy-smelling.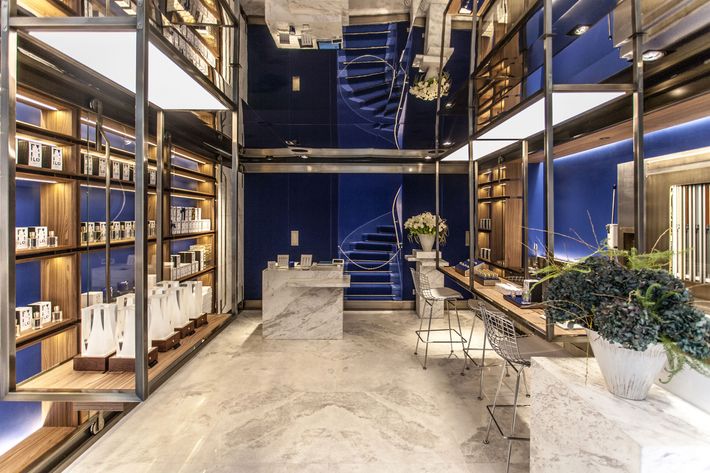 "Consumers are very educated — at every duty-free, you can find the same perfumes around the world. It's standardized. Consumers want something different — they want something unexpected and personalized," Verdier explains. On its site, Ex Nihilo says it wants to create "scents [the company could] easily recommend to Stanford postgrads or a European Center for Nuclear Research employee." Each bottle of perfume comes with an intricate 3-D-modeled cap, the inside of which is YSL Moroccan blue, the company's signature color and one that figures prominently at its first, Christophe Pillet–designed Rue Saint-Honoré store. At the boutique, customers experience scent via specially designed light installation. Fragrance are contained in funnel-shaped light "vases" called the vases de senteurs (scented vases). When the vase is turned on, it releases a small "pfft" of fragrance that the customer leans over to smell, an intimate experience that dispels all traces of unpleasant alcohol. Shoppers can thus try all of the scents without fragrance overload.
The Osmologue sits in the back of the store, carrying out demi-bespoke orders. "Of course, it's very romantic to have a guy doing everything by hand. But in terms of quality, the Osmologue gives you the best quality — it's very precise and allows for the most accurate weighing of raw materials, giving you the exact same quantity every time," says Verdier. It's the Grasse custom-perfume experience in the 21st century. Customers can choose from three different twists to an already-existing Ex Nihilo fragrance and the Osmologue will create the perfume in front of them.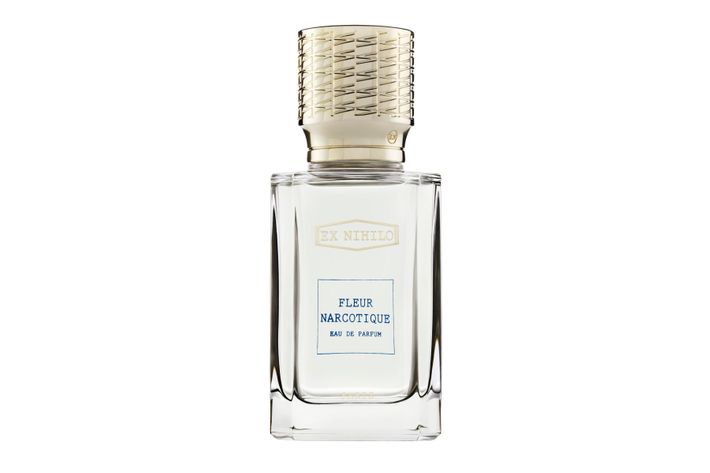 The reaction from old-guard perfumers to Ex Nihilo's contemporary approach has been mixed. "No one was expecting us — we are challengers in the market. We got some bad reactions from conservative perfumers — some came in to take pictures with their iPhone. Others haven't said anything. They might have something to say in two, three years. At the moment, we don't exist for them. We're dangerous," says Verdier.
Ex Nihilo will be opening its first store in New York at Bergdorf Goodman in September. You can find the company in the salon at Harrods or at 352 Rue Saint-Honoré in Paris.