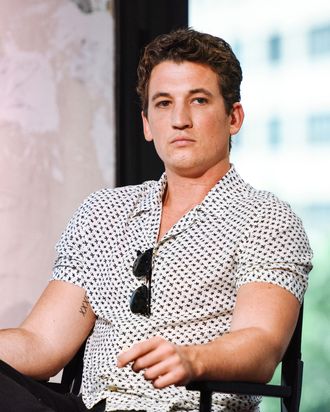 Miles Teller: definitely not a dick.
Photo: Grant Lamos IV/Getty Images
When a lengthy profile of Fantastic Four star Miles Teller appeared on Esquire's website yesterday, the world assumed that it had the answer to "What kind of person is this young new actor?" He's the kind of guy to get a beer tattoo and talk to waitresses about his cock. But several hours later, Teller himself weighed in, saying that the profile "couldn't be more wrong."
If you recall, the thrust of Teller's Esquire cover was that everything Teller did — whether talking about how good-looking he is or how he wants to contribute to the film canon — came from a place of dickishness. But in a tweet response to the magazine, Teller claims that he was completely misrepresented.
@esquire couldn't be more wrong. I don't think there's anything cool or entertaining about being a dick or an asshole. Very misrepresenting

— Miles Teller (@Miles_Teller) August 5, 2015
In an attempt to really hammer home the point, the remaining Fantastic Four three came to his defense as well, all making very compelling cases that Miles Teller is not a dick:
.@Miles_Teller is my boy and I'm a great judge of character @esquire

— Michael B Jordan (@michaelb4jordan) August 6, 2015

My movie husband @Miles_Teller is crazy talented and a truly fantastic person. @esquire

— Kate Mara (@katemara) August 6, 2015

@Miles_Teller is a great actor & a great guy. @esquire

— Jamie Bell (@1jamiebell) August 6, 2015
The background of Miles Teller's Twitter page is a multicolored illustration of Jimi Hendrix.