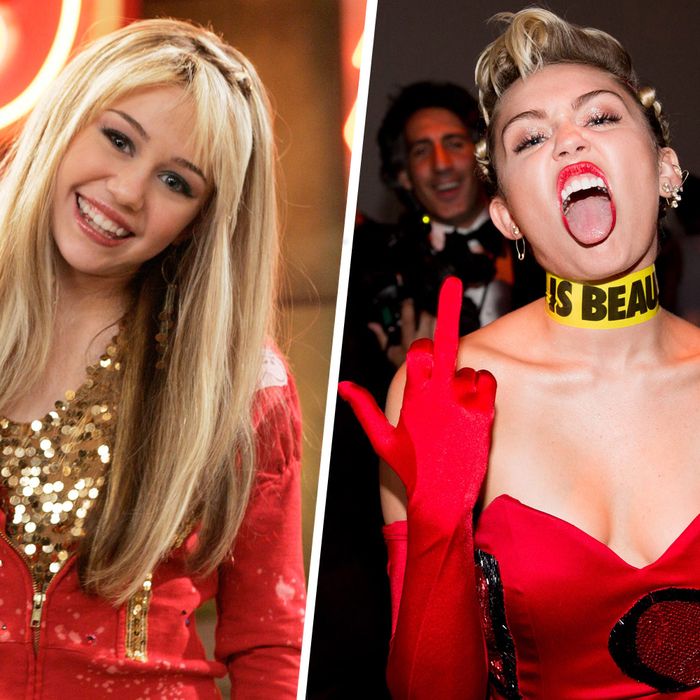 Man, as if we needed more evidence of the fact that being a child star is awful, Miley Cyrus came out and said it herself in her forthcoming cover story for Marie Claire. The 22-year-old pop star and activist seems wise beyond her years, but perhaps that comes from having a career in entertainment before she even became a teenager:
"From the time I was 11, it was, 'You're a pop star! That means you have to be blonde, and you have to have long hair, and you have to put on some glittery tight thing.' Meanwhile, I'm this fragile little girl playing a 16-year-old in a wig and a ton of makeup. It was like Toddlers & Tiaras. I had fucking flippers."
On top of that, Cyrus says in the interview that all of this performing femininity made her feel like she didn't know herself, which led to body-image issues:
"I was told for so long what a girl is supposed to be from being on that show. I was made to look like someone that I wasn't, which probably caused some body dysmorphia because I had been made pretty every day for so long, and then when I wasn't on that show, it was like, Who the fuck am I?"
Luckily, Cyrus is taking back control and has fronted great initiatives like helping LGBTQ youth with the Happy Hippie Foundation. And she feels comfortable about where she stands now.

"I'm probably never going to be the face of a traditional beauty company unless they want a weed-smoking, liberal-ass freak. But my dream was never to sell lip gloss. My dream is to save the world."
Hell yeah, Miley. Do it.