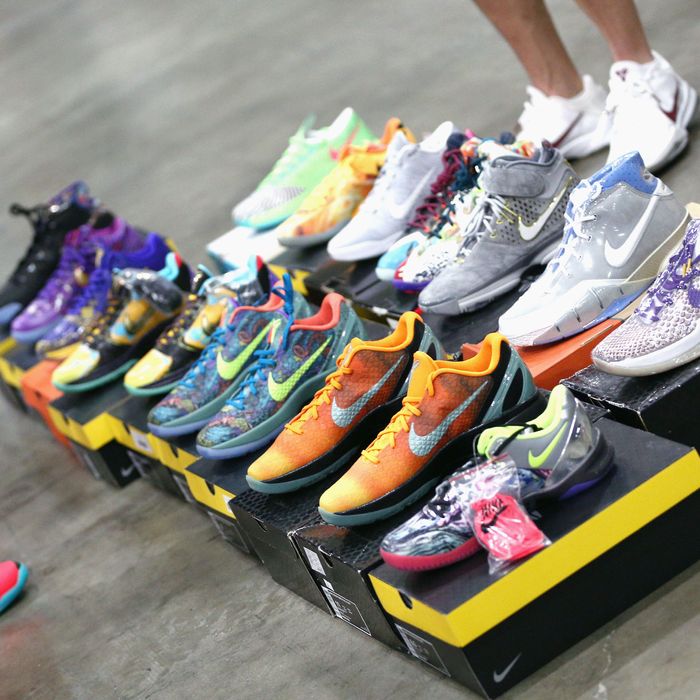 Photo: Rich Polk/Getty Images
Sneakerheads: the men and women who care about nothing more than copping exclusive and limited-edition sneakers by any means necessary. These hungry hypebeasts love pristine Jordans so much, in fact, that they can often be found skulking around at events like Sneaker Con, where sneakerheads go to buy, sell, and trade their beloved footwear. At the most recent con in New York, sneakerhead website Sole Collector went all in with a new angle: What do the moms think of their burgeoning hypebeast offspring?
Sherrie: What's so interesting is a lot of people I see are very nerdy. And you can see when they bump into you they say, "Sorry ma'am. Excuse me." It's that mannerism, that respect that's there. Which is cool. But you can tell a lot of them are nerds. They're nerdy. They're nerdy about sneakers. And what I find very fascinating is that you have parents who are with their kids supporting it. I heard somebody outside on the phone say, "Well, do you think you could get more money for this? Start out high and then work your way low." 
Ha ha, Sherrie, who attended Sneaker Con with her nephew Quentin, is not having it. But several other moms — who often fund the expensive habits of their teenage kids — seem destined to become mama hypebeasts themselves. 
Janine: I'm pleasantly surprised by how enjoyable this is. Even just looking at the amazing variety of sneakers out there and the amount of money that's changing hands and the prices of some of these. It's been really very interesting.
The best part of the interviews, though, is seeing how moms react to the idea that their sons might be sneakerheads forever — a blessing for freshness and a curse on paychecks. Yelitza, mom of a boy named London, said this of the habit having an expiration date: "I wish. Because money. Whatever shoe comes out, you have to spend. I want to say this is the last [Sneaker Con], but it's never is the last one."
Moms know. It's never the last one.