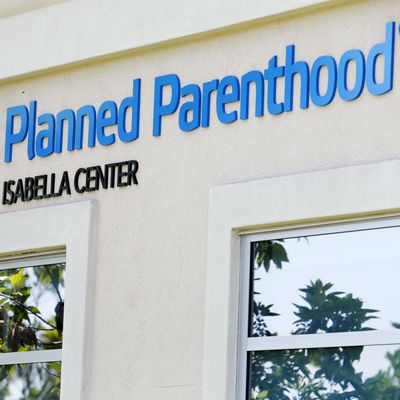 In the wake of a string of deceptively edited undercover videos showing Planned Parenthood officials discussing the legal practice of donating aborted fetal tissue for research, Republicans have been working hard to make defunding the health-care nonprofit a key issue of the 2016 presidential campaign. However, findings from a new poll suggest that's not an effective political strategy, since the majority of Americans support federal funding for women's health and contraception services.
Results from a new Reuters/Ipsos poll show that 73 percent of Americans are in favor of federal funding for women's health exams, while 69 percent support federal funding for prenatal services, and 59 percent support government dollars being used for contraception. A recent Gallup poll found that 50 percent of Americans consider themselves "pro-choice," compared to 44 percent who consider themselves "pro-life" — indicating that a significant number of Americans who are anti-abortion still support government funding for women's health care.
When asked if they backed federal dollars for Planned Parenthood specifically to provide those services, 54 percent of respondents said yes, while 26 percent said no.
Currently, Planned Parenthood annually receives up to $500 million in federal funds in Medicaid reimbursements for cancer screenings and other medical exams, as well as $60 million for family-planning services, including providing accessible birth control, to low-income and uninsured individuals. By law, no government dollars can be put toward funding abortions.
The same poll did find, however, that 44 percent of respondents who'd seen the videos released by the Center for Medical Progress said they now have a more negative view of Planned Parenthood — compared to 34 percent who said their opinion of the organization had not changed. (Perhaps they should read up on how the videos are just effective propaganda.)
This is not stopping the GOP. Republicans in at least ten states have launched investigations into Planned Parenthood, though they have yet to find any evidence that the organization is illegally selling aborted fetus parts. Planned Parenthood officials have been clear that only affiliates in California, Washington, and Oregon participate in legal fetal-tissue donation programs — and, so far, completed probes in Georgia, Indiana, Massachusetts, and South Dakota have cost thousands in taxpayer dollars and found no evidence to the contrary.
The people have spoken — it's clear who is and isn't listening.