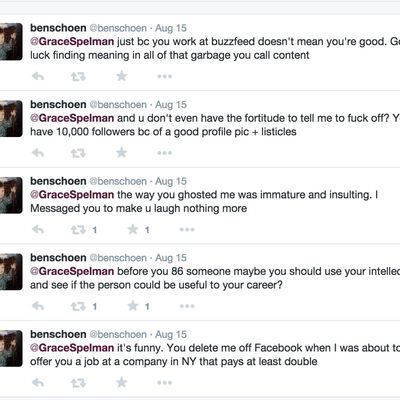 Telling someone you don't want to date them is anxiety-inducing for everyone, but for straight women it's especially difficult. In order to properly reject a guy, we're supposed to be forceful enough that they take our rejection seriously, but nice enough that they don't immediately start plotting our demise. But even if you strike the perfect balance between the two, there's still no guarantee that your rejection will be taken well.
Grace Spelman was minding her own business on Twitter when a man whom she'd Facebook-friended at age 14 during her Harry Potter fandom days decided that, after seven years, he wanted to interact with her. Ben Schoen had hosted a popular podcast called "MuggleCast," and is listed as a co-founder of the wildly popular Harry Potter fandom site MuggleNet. Spelman said she believes he saw her on the Daily Dot's list of funny women tweeters, and realized they were friends on Facebook.
A little over a week ago, he followed her and sent her a tweet initiating contact, which she politely favorited but did not respond to. He kept tweeting at her, and she didn't answer. But instead of taking the hint that she didn't want to talk to him, things escalated really, really quickly.
Schoen decided to switch platforms to Facebook, where he sent Spelman, a BuzzFeed writer, the message below. Spelman responded politely to his message, telling him she was seeing someone and hoping he'd take the hint.
But … nope.
In addition to being a celebrity in the world of Harry Potter fandom, Schoen is — perhaps a bit ironically — the co-founder of Feminspire, "an online publication featuring a global collection of female voices." Since Spelman's tweets started going viral, she says other women have privately messaged her to relay similar experiences they've had with Schoen. Here's one, quoted with permission from the author:
"Hi Grace, I just wanted to add to the numbers who've told you about Ben. I had a similar experience ~8 years ago after meeting him on a book tour he was on w/ the other Mugglenet guys. My friends & I hung out w/ them that night & he hit on me pretty aggressively the whole time. (He was still in high school then.) In the weeks after, he sent me similar Facebook messages to what you received, even after I started ignoring him as they became creepy. I chalked it up to youthful exuberance at the time - I mean, he was a kid from Kansas who likely was away from home for the first time & talking to girls who didn't know him as the chubby kid, but as someone in the Harry Potter "in crowd." (I mean, he had met JK Rowling!) Unfortunately, it didn't seem to be an age/maturity issue. He's just an asshole. Sorry you had to experience this, and thanks for sharing!"
So far, Schoen has refused to apologize for his emails to Spelman, instead insinuating they are part of a "punching up" campaign aimed at a BuzzFeed writer, and that he is enjoying watching the "sheeple" come after him. He then accused Spelman of being on her period, and compared himself to Dr. Dre. (We've emailed him for comment, but haven't yet heard back.)
The whole exchange is pretty emblematic of the inherent difficulties of rejecting men, both online and off. Women are frequently made to toe a line between being polite enough to not set off the suitor, but not so polite that their manners are interpreted as flirting.
"You can't win in these types of situations," Spelman told the Cut. "Even if you are polite in your rejection, they'll demand that you tell them WHY you did it. It's just a mixture of entitlement and the fragility of the ego … Because you don't know how they're going to handle it, you don't know if you should be afraid or not."
"I still am not quite sure if I should be scared of this guy or not," she added.
Update 5:15 p.m.: Schoen has provided the following statement to the Daily Dot:
I have done more for the cause of advancing women's rights than any of the people who are criticizing me. This so-called crisis is manufactured by Ms. Spelman as a way to increase her profile as a social justice warrior. I grew up without a father and I spent years protecting my mother from scummy men and dealing with all of the difficulties that come with not having a male role model. Am I rough around the edges? Sure. Am I a predator? Absolutely not. If you read the email I sent Ms. Spelman it was not threatening and was filled with apologies. I even offered to connect her with people who could help her career. I had no interest in continuing contact with her afterwards since I was offended by the manner in which she ended our interaction. I represent no threat to her and her painting me into a villain and sending all of her sycophants after me is incredibly disappointing and immature. My attorney tells me I have a case already but I'm not going to go that route unless Ms. Spelman continues to attempt to unjustly tarnish my image."