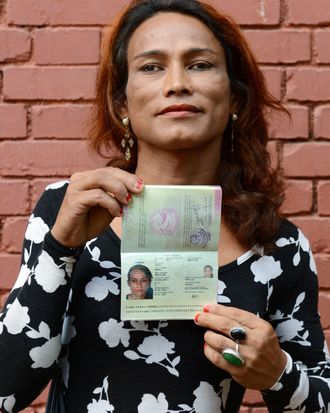 Photo: Prakash Mathema/AFP/Getty Images
Many countries, including Australia, Pakistan, and India, officially recognize nonbinary gender identities. In Nepal, citizens have been able to legally register their gender as "other" since 2007, and now, according to Human Rights Watch, the South Asian country has issued its first-ever passport to acknowledge the spectrum of gender identities.
Monica Shahi, 37, is a human-rights activist whose passport now bears an "O" for "other" instead of an indicator of male or female. Shahi told the press, "This is such an important and significant day. It feels great," but that she was disappointed that neither the prime minister nor the foreign minister had agreed to hand her her passport. Such changes in paperwork are meaningful in terms of recognition, and hopes are that they will allow trans and nonbinary travelers to be spared intrusive searches or questions about their gender status.

Currently, in the United States, the only two options are "male" and female" and in order to change the gender on your passport, you have to go through a highly scrutinized process and reveal whether your transition is "in process" or "complete." To put it in pop-culture terms, Caitlyn Jenner could change her name on her documents, but she would need a doctor's note to change her gender — and even if that changed, there is no nonbinary option.

In other words — you go, Nepal. Hope we catch up soon.