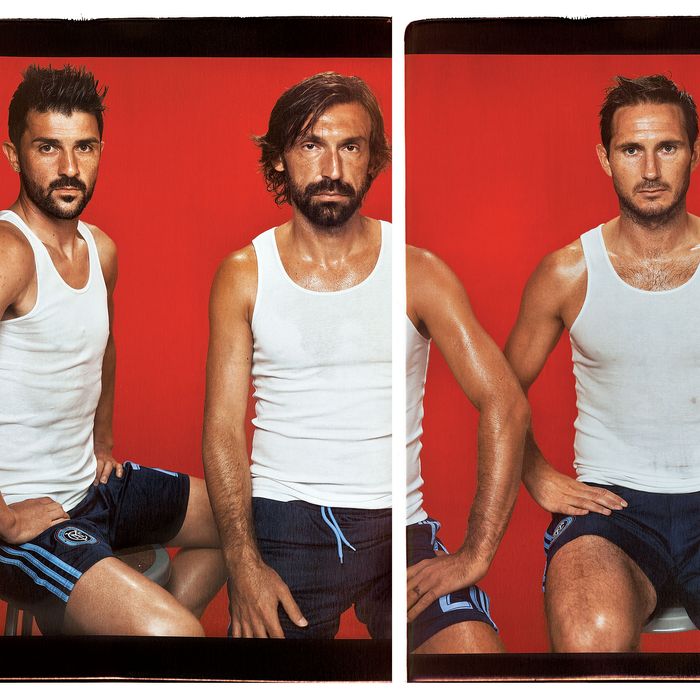 NYCFC's David Villa, Andrea Pirlo, and Frank Lampard.
Photo: Lyle Ashton Harris
New York City Football Club, the $100 million baby born from the union of Manchester City and the Yankees, hopes to bring its fans joy with its newly imported triumvirate: the superstars David Villa (from Spain), Andrea Pirlo (Italy), and Frank Lampard (England). So far, Villa has contributed more than a dozen of his apparently effortless goals, in which the ball seems to pick up speed after it rockets off his instep. Pirlo, at 36, can still see into the future, dropping a pass exactly where his teammate will be when it lands. Lampard has yet to show off his high-octane midfield game: A calf injury delayed his debut until August 1, when he trotted out in the 69th minute to try in vain to rescue his new team from a 3-2 loss. At press time, NYCFC is in eighth place in a ten-team division.
A master of gleeful post-goal cavorting, Villa off the field comes armored in sullenness. But he's happily improving his English (though he gives interviews only in Spanish), and he's also happy enjoying "many, many things" about living in Manhattan. Likewise Pirlo, who is similarly stoic and unsteady in English — but regular New York vacations made him so comfortable that he bought an apartment here five years ago. NYCFC jerseys with his name are cropping up around the city, and so are T-shirts saying NO PIRLO, NO PARTY. "There are still a lot of fans who stop me on the street and want photos," he says in Italian, without cracking a smile. Lampard, despite the slow, tough start, seems to be enjoying himself the most. "I'm a city person, and I love the buzz. I took my kids to Six Flags, and nobody recognized me," he says, chortling. "In England that could never happen."
All three dispel the impression that they're here to goof off and finish out their careers (Villa's 33; Lampard's 37), and all embrace the challenge of turning a collection of individuals into a scoring machine and, maybe, helping turn a minor American sport into a major one. "The pace is still a bit slow," Pirlo says, "because we've been playing in the afternoon and it's been so hot. But we'll try to do better."
Styling by Tierra Lee. Special thanks to Doral Arrowwood Resort.
*This article appears in the August 10, 2015 issue of New York Magazine.