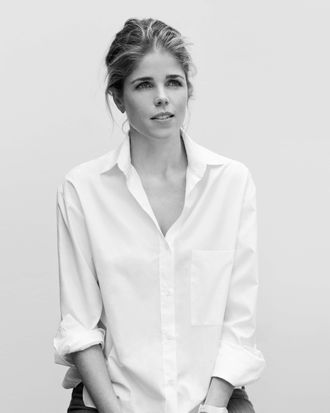 Laura Myers.
Photo: Courtesy of Laura Myers
"It looks a little bit like a stalker board," jokes designer Laura Myers of her heavily Carolyn Bessette–themed inspiration board. Bessette's '90s minimalist nonchalance is the cornerstone of every collection Myers does for her nearly two-year-old brand, Atea Oceanie — updated for the present day, of course. "When I first started, one of the things I was thinking about was, what would a woman like Carolyn Bessette be wearing today?" she recalls. "She had these great shirts that looked like they were literally borrowed from John Junior." That inspiration translated into the line's paper-thin slip dresses, oversize blazers, washed-denim dresses, and even the perfect dressy sweatpant. Myers calls them "wardrobe backbone pieces." In her look books, they're often approachably paired with sneakers.

While her influences are all-American — she also cites Lauren Hutton as an totem— the collection has Oceanic roots. Myers, now based in London, was born in New Zealand and spent much of her early life in Tahiti. "I wanted a name that was a bit reflective of my background and my experience traveling," she says. "Atea is an Eastern Polynesian word and it means something remote or far away."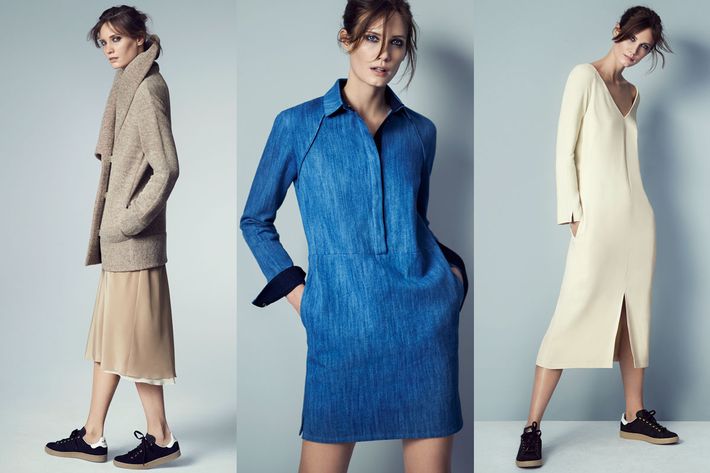 Myers came to create her own collection after taking a relatively unorthodox approach to a fashion career. While attending Brown, where she majored in sociology, she took internships at Ralph Rucci and Louis Vuitton, working under Peter Copping at the latter. "I always knew that I loved fashion and I loved fine arts," she says. "But I wasn't completely sure what I wanted to do and so I thought, I'll go and get a liberal-arts degree that would give me some other options." Post-graduation, she studied at Parsons, did a stint at ad agency Saatchi & Saatchi, and went on to work for her countrywoman, designer Trelise Cooper, before starting Atea Oceanie in late 2012.

The line's biggest moment in the sun thus far has come from Kristen Stewart, who wore the brand's button-down and relaxed track pants for a TV appearance. "She shows exactly that kind of nonchalance, kind of boyish but still very feminine feeling … that really expresses the attitude of the brand," says Myers. "I was so proud and so excited when we had that moment." Sarah Jessica Parker, Kate Hudson, and Elle Fanning have all worn pieces from the collection as well, making for a groundswell of celebrity support.

Last month, Atea Oceanie landed at Barneys New York (it also sells at the Line, Selfridges, and on its proprietary e-commerce site). For Myers, Barneys had been a goal since the beginning. "When I first came to New York, before I went to university, my sister and I would spend a lot of time walking the floors and getting inspired," she recalls, "so to come back with my own collection is pretty cool." And for her next act, she's keen to launch leather jackets — another backbone item. A presentation or show is more of a long-range dream: "In the next two to three years," she predicts, that may just come to pass.

Myers answered our Taste Test to gauge some of her fashion and pop-culture preferences.

Slip dresses or caftans?
Slip dresses — always my all-season wardrobe essential.
'90s Calvin Klein or '90s Zoran?
'90s Calvin Klein.

Auckland or London?
New Zealand for getting away from it all and London for getting back to reality.
 
Culottes or overalls?
Culottes, in denim.

You're currently vacationing in the Adirondacks — what has been your favorite find there so far?
The total stillness and absence of people — reminds me very much of my summers in New Zealand.
 
What's one thing you want to do before summer is over?
Remain unbeaten at family backgammon tournaments.
 
Fashion pet peeve?
Not being able to wear sneakers with everything at all times.
         
Favorite brands besides your own?
Valextra and Common Projects.
 
Dream collaboration?
I would really love to do something with a sneaker brand.