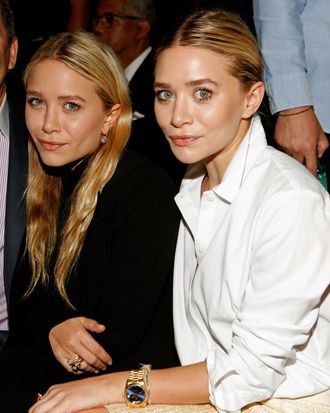 Olsen twins.
Photo: Amy Sussman/Getty Images
Mary-Kate and Ashley Olsen will probably have to revamp their internship program because their unpaid employees are beginning to sue them, according to multiple reports. A class-action lawsuit filed in Manhattan Supreme Court accuses the celebrity twins of failing to pay roughly 40 past and present interns, under the umbrella of their Dualstar Entertainment company, for grueling hours spent on tedious tasks. The lead plaintiff, Shahista Lalani, is a former design intern who answered to the head technical designer of the Row, the Olsens' fashion label, for nearly half a year in 2012. "She was very demanding," Lalani, who claims she went to the hospital for dehydration at one point, said, according to "Page Six." "I was doing the work of three interns. I was talking to her all day, all night." Yikes.
"You're like an employee, except you're not getting paid," Lalani, who typically worked 50-hour weeks, added. "They're kind of mean to you. Other interns have cried. I'd see a lot of kids crying doing coffee runs, photocopying stuff." The suit reportedly maintains that interns were doing the same work as their paid colleagues and that they were incorrectly classified as exempt from minimum-wage requirements. The interns contend they received neither paychecks nor, at the bare minimum, college credits.