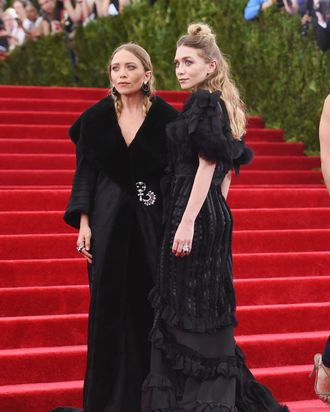 Photo: Mike Coppola/Getty Images
The latest fashion-intern controversy revolves around Mary-Kate and Ashley Olsen, who are the subjects of a reported class-action lawsuit by about 40 former unpaid interns. The lead plaintiff, who worked at The Row, alleged 50-hour workweeks sans pay or college credits. Now, USA Today reports that the twins have finally spoken on the matter — via a spokesperson for their company, Dualstar.

Spokesperson Annett Wolf issued the following statement to the paper:
"As an initial matter, Dualstar is an organization that is committed to treating all individuals fairly and in accordance with all applicable laws. The allegations in the complaint filed against Dualstar are groundless, and Dualstar will vigorously defend itself against plaintiff's claims in court, not before the media. Dualstar is confident that once the true facts of this case are revealed, the lawsuit will be dismissed in its entirety."
Whatever comes of this suit, the pre-deposition street style ought to be amazing.