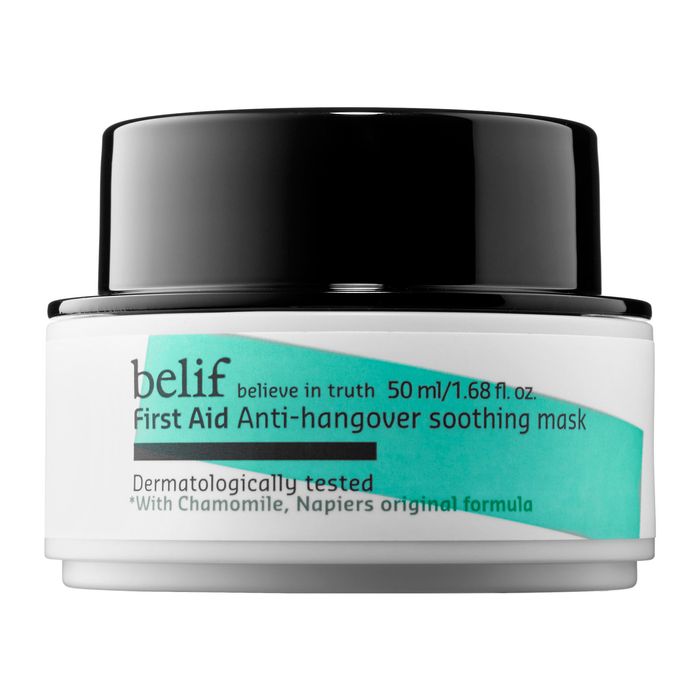 Hangovers are like bad dates: There's no reliable way to make them better, and you'll likely experience at least one during your lifetime. They also tend to bring about some lousy skin side-effects, making your face red, dry, and bloated. Korean beauty brand Belif's mask aims to fix these problems, like the skin-care version of a bacon-egg-and-cheese sandwich.
Belif's First Aid Anti-Hangover Soothing Mask is a clear, goopy gel mixture that pledges to calm and relieve stressed skin. With a never-ending list of anti-inflammatory herbal ingredients like chamomile, mistletoe, soy, and oat extract, the mask smells medicinal, like the milder cousin of Vicks VapoRub. You're supposed to apply it to a clean face for ten minutes before rinsing, presumably the morning after a more-than-eventful night.
I was excited to try the mask, but I haven't had a hangover since 2010. A friend's 21-year-old cousin is still relishing the ignorant bliss of youth, so I asked her to be my testing co-pilot. The Sunday morning after I recruited her, she texted me: "I feel like crap, lol." I told her to try the mask. Two hours later she wrote back with a report. The Anti-Hangover Mask was cool to the touch, and her skin felt a little softer after wearing it for an hour. She didn't think she looked less red or puffy, but then again, she didn't think she looked red or puffy to begin with. Overall, the mask was a pleasant way to spend the morning recuperating — but mostly because the cold, comforting gel had lulled her back to sleep.
In the absence of a hangover, I also gave the mask a whirl, hoping it would help with a few blemishes. They didn't get any smaller, but the anti-inflammatory ingredients did get rid of the redness surrounding them. And the redness around the flare of my nose — the result of an overly aggressive chemical peel — vanished as well, so there's definitely something to the mask's ambitious soothing claims.
Maybe it's more accurate to look at this mask as a general antidote for irritated skin, rather than a hangover cure. It makes sense, because if you're expected to shell out $34, then at the very least it ought to be useful for when you're sober and clear-headed, too.
Belif First Aid Anti-Hangover Soothing Mask, $34 at Sephora.