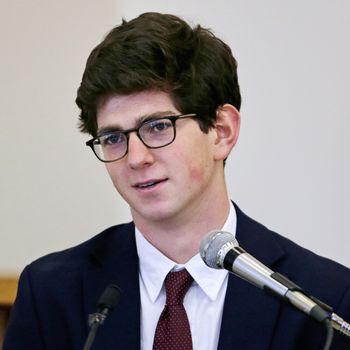 Photo: Charles Krupa/Corbis
Owen Labrie, the former St. Paul's School senior who was accused of raping a then-15-year-old freshman, was found not guilty of three counts of felony sexual assault by a New Hampshire jury on Friday. The jury reportedly believed that Labrie and the victim did have sex, but that it wasn't against her will or she "didn't make it clear enough" that it was.
The jury did, however, find Labrie guilty of one felony computer abuse charge and four misdemeanor sexual-assault charges, including penetration of a minor, endangering the welfare of a child, and oral penetration of an underage girl. The age of consent is 16 in New Hampshire, and the girl was 15 at the time of the incident.
Using a computer to entice or abuse a minor is a felony in New Hampshire, punishable by up to 3.5 to seven years in prison. The statutory-rape charges Labrie was found guilty of each carry a maximum sentence of one year and ten years on the sex-offender registry. A sentencing date has not yet been set.
This is a breaking-news post. We will update as we know more.