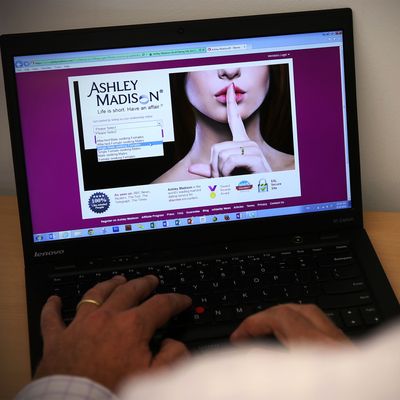 Photo: Carl Court/Getty Images
Plenty of people predicted that last week's Ashley Madison data dump could have troubling repercussions, and it seems they weren't wrong: At a news conference this morning, Toronto's police department reported that two apparent suicides are believed to be a result of the hack.
The Toronto police also confirmed that Ashley Madison's parent company, Avid Life Media, is offering a $500,000 reward for information leading to the arrest of the hackers behind the data breach, known as the "Impact Team." Referring to the hack as "one of the largest data breaches in the world," Toronto's acting Staff Superintendent Bryce Evans appealed to the hacking community to come forward with any information that will help with the investigation. "Team Impact, I want to make it very clear that your actions are illegal and we will not be tolerating them. This is your wake up call," Evans said.
Meanwhile, Ashley Madison is currently facing multiple lawsuits for failing to protect its users' information despite claims that profiles would be deleted from the site for a fee of $19. Last week, two Canadian law firms filed a $578 million class-action lawsuit against Avid Life Media; in the U.S., two John Does have filed similar suits against Ashley Madison in U.S. district courts in Texas and California.