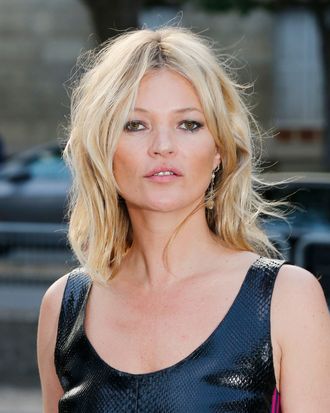 Kate Moss.
Photo: KCS Presse/Corbis
Every couple of years, a model comes along who's said to be inheriting Kate Moss's crown, whether that's Cara Delevingne or Moss's own sister Lottie. But Moss has endured to rule over the fashion world, tiara firmly intact. However, if you'd like a shot at her actual crown, get thee to Christie's, where the one she wore on her first-ever photo shoot will be auctioned on September 10, per The Telegraph. The future supermodel wore the Stephen Jones design — made from black felt and decorated with mirrored pieces and spirals of fabric — in a spread for i-D magazine in 1989, when she was only 14 years old. (The shoot predated her better-remembered portfolio with Corinne Day for The Face, which followed soon afterward.)
Right now, the auction house is estimating the crown — modeled below by a Christie's employee who looks eerily like Delevingne — will sell for somewhere between $7,750  and $12,400. But who can put a price on the chance to become fashion royalty by osmosis?