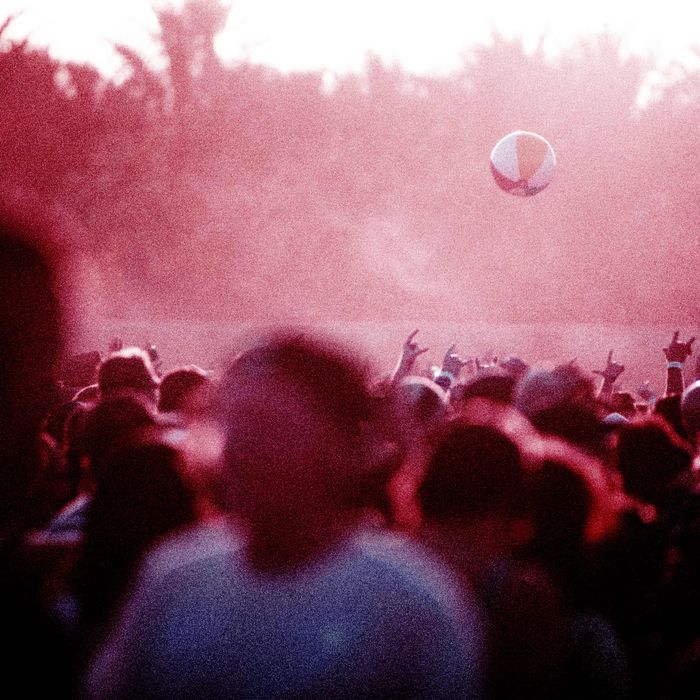 Photo: Forest Woodward/Getty Images
Music festivals — much like beach time and alcoholic slushies — are a highlight of our short summers. Whosoever has not enjoyed getting faded in a field while Future croons, speak now or forever be relegated to earbud sonics. But, like many things that are an enjoyable part of living on this planet, music festivals are not as safe for women as they should be. Growing evidence indicates that sexual assault is a rampant problem, and often goes unreported. And the bigger problem: Festival organizers don't seem to be doing anything about it.
In a new story on Broadly, writer Kate Lloyd explores the issue of rape at U.K. music festivals. While almost every festival website she read made references to what to do in the event of theft or drug use, the guidelines about sexual assault were far more murky. But the lack of clear rules doesn't mean that assault isn't an issue:
There were three sexual offenses reported at Glastonbury this year and two in 2014. Two men were arrested for raping a woman at Reading Festival last year, and there was also a rape at the festival in 2009. A male nurse was recently convicted for assaulting two unconscious women in the medical tent at Wilderness in Oxfordshire in 2013. A 16-year-old boy was convicted after attacking a 12-year-old girl at Secret Garden Party in 2010. In the same year, two women told police they were raped at Latitude in Suffolk. One of victims was grabbed by a group of more than three men while walking from her campsite to the toilet.
Earlier this year, THUMP covered rape culture at music festivals after a man was photographed wearing a T-shirt with the slogan "Eat, Sleep, Rape, Repeat" at Coachella. Michelle Lhooq wrote:
Remember the two drug deaths that dominated headlines after Electric Zoo 2013? There was another incident that people didn't talk about as much: that of a 16-year-old girl who woke up underneath a van outside the venue, with her pants down and legs bruised. She was taken to a nearby hospital, where doctors concluded that she had been sexually assaulted.
While the Australian consent advocacy group White Ribbon has been a presence at several music festivals, a more significant move would be for festival organizers themselves to start talking about sexual assault on their grounds before the events even begin. Burning Man, which starts August 30, shared a post called "Help Prevent Sexual Assault in Black Rock City" on its site, saying:
Everyone needs to know that if they find themselves in an uncomfortable or threatening situation, they can always ask for help. While there are some 'bad eggs,' they are far outnumbered by well meaning Burners who are willing and able to lend a helping hand. We can empower one another to yell "HELP!", "FIRE!" or "I NEED A RANGER!" if you're experiencing an unintended mental state or if your physical well being is threatened in any way. Black Rock City is not so big or so anonymous that people will ignore a call for help.
This may not seem like much, but it's a start — and Burning Man's organizers say they'll continue to write posts about sexual assault all week, adding that they "believe our focus should be on education and prevention" instead of dealing with the issue after the fact.