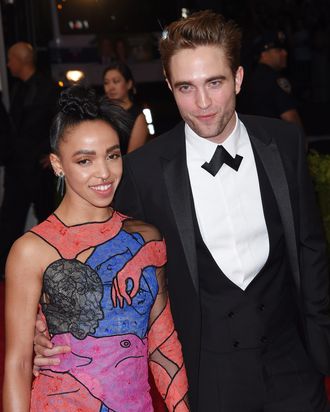 Photo: Axelle/Bauer-Griffin/Getty Images
Robert Pattinson continues to succeed despite himself. His flailing, nervous persona has not stopped him from getting roles in big-shot movies, looking sharp and elegant on red carpets, and, of course, landing himself in a relationship with goddess of the cool girls, FKA Twigs. In an interview with German magazine Jolie translated by R-Patz fan site Thinking of Rob, Pattinson envisions himself in a new role: father of a cool child.
Sure I will have a child who is totally cool and confident. He or she will probably look at me every day and think, 'Why is this guy such a funny, quirky oddball?'
Robert Pattinson is the human embodiment of the grimacing emoji and FKA Twigs is a blinding light of self-aware womanhood. Would she be ready to start having kids with her fiancé, even though she's still never seen him act in Twilight? Seems possible based on this interview she did this year with The Sunday Times:
"Women are amazing creatures. We can give birth. We have a womb. We can create life! Are you kidding me? We can create life!" she said. "Do you know what I mean? I honestly didn't give a s— about any of this stuff until about two years ago. I don't know whether it's my age – I'm going to be 28 in January – but all of a sudden I started thinking that if I had a daughter, it is gonna be terrifying."
But first: a chill wedding.