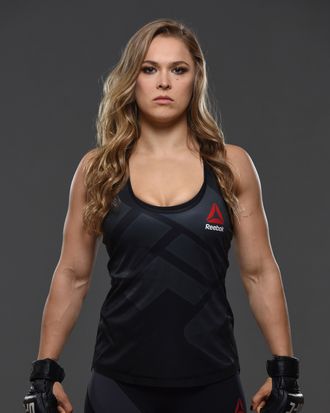 Photo: Jeff Bottari/Zuffa LLC/Zuffa LLC via Getty Images
Ultimate Fighting bantamweight champion and shit-talker extraordinaire Ronda Rousey has filed a trademark for the phrase "Do Nothing Bitch" and the abbreviation DNB, reports ESPN. What is a Do Nothing Bitch? As Rousey explained in a UFC video before her August 1 title match against Bethe Correia (which she won in 34 seconds):
"I have this one term for the kind of woman that my mother raised me to not be, and I call it a do nothing bitch. I call it a DNB a lot of the time. The kind of chick that just tries to be pretty and be taken care of by somebody else. That's why I think it's hilarious if people say that my body looks masculine or something like that. I'm just like 'Listen, just because my body was developed for a purpose other than fucking millionaires doesn't mean it's masculine. I think it's femininely badass as fuck because there's not a single muscle on my body that isn't for a purpose, because I'm not a do nothing bitch.'"

During a Reddit AMA on August 10, Rousey announced limited-edition "Don't Be a DNB" tees, tanks, and sweatshirts with a portion of the proceeds going to Didi Hirsch Mental Health Services, a California organization she's worked with before. The goal was to sell 1,000 shirts in two weeks and she sold nearly 57,000 of them. So expect more "Do Nothing Bitch" apparel in the future. Just one request for Rowdy Ronda, Inc.: Can we get a hyphen?