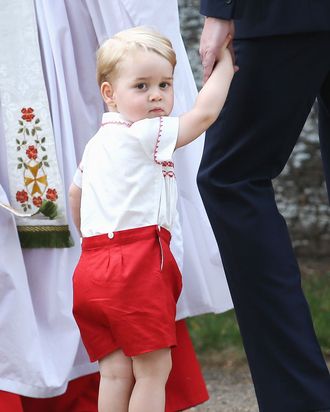 Prince George.
Photo: Chris Jackson/Getty Images
Prince George is officially too cute for his own good. Kate and William's communications secretary published a letter today detailing Kensington Palace's frustration at the lengths paparazzi are going to in order to obtain photos of George and his sister, Princess Charlotte. While most Commonwealth publications respect the royals' policy of publishing only approved photos of the prince and princess, a "handful" of international media outlets are "going to increasingly extreme lengths to observe and monitor Prince George's movements and covertly capture images of him," the letter says.
The last straw seems to have been an incident last week where a photographer rented a car, hung sheets in the windows, and holed up near a playground in hopes of catching young Georgie, until police discovered the photographer in the trunk of his car, shooting through a hole in the sheets with a long lens. Photographers have also apparently used other children to draw George into view around playgrounds, followed the movements of household staff, and hidden in fields, woodlands, and sand dunes in their quest for photos of the 2-year-old.

Unfortunately, that kind of behavior is pretty much par for the course for paparazzi around the world, but it's particularly egregious in the U.K., where child-photography laws are stricter and tabloids blur children's faces. And it's worth noting that the Duke and Duchess are only complaining about unapproved images — official shots and photo-ops are fine. Here's hoping they remain as Instabasic as ever so we can all get our fill of the Prince of Cheeks.