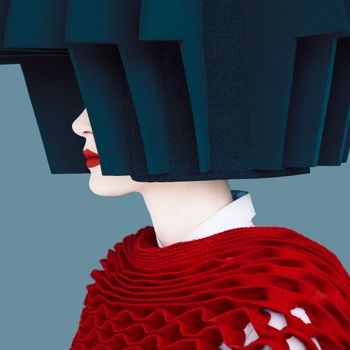 Though Junya Watanabe is no stranger to larger-than-life designs — see this spring's graphic cubist collection, or last year's "patchwork madness" show — his fall collection saw a shift toward architectural, origamilike constructions. At times, the headpieces for the show, created by frequent Comme des Garçons collaborator Tomi Kono, were helmetlike; other times, they were crafted like fragile bird feathers. The garments, on the other hand, resembled paper dolls, featuring honeycomb cutouts and spiky hexagonal shapes.
To bring Watanabe's extraordinary craftsmanship to life, the Cut collaborated once again with fashion photographer Erik Madigan Heck (who also just lent his creative vision to some of the boldest runway looks from fall). "Junya's collection in many ways had to be photographed as still lives and not as photographs of a person," he said. "I tried to make them as illustrative and flat as possible to contrast their three-dimensionality. In the end, I wanted the images to look like paper cutouts."
Click through the slideshow to see photos of looks from the collection with their headpieces, styled by Kono as he would on the runway.
Stylist: Rebecca Ramsey; hair: Tomi Kono; makeup: Aya Komatsu; photo editor: Emily Shornick; model: Chloe Wheatcraft.
*Select images from this spread appear in the August 24, 2015 print issue of New York Magazine.