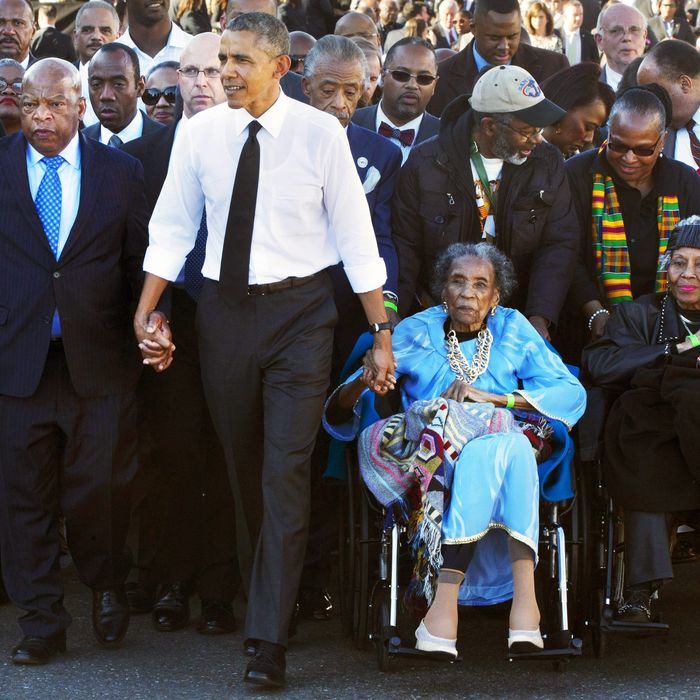 Photo: Jacquelyn Martin/Corbis
Today the world lost a boss woman who will long be remembered: Amelia Boynton Robinson, a civil-rights activist who helped lead the Bloody Sunday march in Selma, Alabama, died this morning at 104. According to her daughter, Boynton Robinson had suffered several strokes this year.
Her life was chronicled in an obituary by the Montgomery Advertiser:
In January, she attended the State of the Union address as a special guest of Democratic Alabama Rep. Terri Sewell, who said Boynton's 1964 run for Congress paved the way for her. Sewell is Alabama's first elected black congresswoman. Boynton was the first woman to run on a Democratic ticket in Alabama and the first black woman to run for Congress in the state, according to the Encyclopedia of Alabama.
Only a year after her run for Congress, Boynton Robinson marched the Edmund Pettus Bridge with hundreds of other civil-rights activists after spending a large portion of her life campaigning for suffrage for African-Americans. She was the first person to ask Martin Luther King Jr. to join the movement in Selma, and he set up protest headquarters at Boynton Robinson's home there. During the march on March 7, Boynton Robinson was beaten unconscious by police officers, and was one of 17 people taken to the hospital with injuries. She was later asked to be a guest of honor at the 1965 signing of the Voting Rights Act by then-president Lyndon B. Johnson.
Fifty years after Bloody Sunday, the civil-rights activist held hands with President Barack Obama as the First Family marched with thousands of others across the Edmund Pettus Bridge, just as she'd done many years before. Boynton Robinson's family is reportedly planning a ceremony for their late inspiring matriarch on the Edmund Pettus Bridge on September 8.