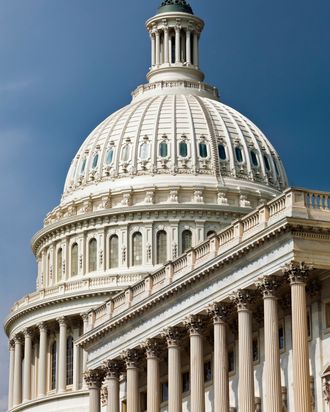 Photo: Tim McGuire/Corbis
A woman known only as "Kim" penned an editorial for The Guardian on Wednesday saying that though she holds a job as a U.S. Senate employee, she is so underpaid that she's been forced to take a second job as an exotic dancer in a D.C.-area nightclub.
Kim's job in the Senate cafeteria nets her only $10.33 an hour, and she doesn't get paid at all when the Senate is in recess. In order to support her honor-roll son as a single mom, she was forced to take a second job as a dancer:
When I realized that I couldn't survive on what I was making at the Senate, I made a difficult decision. Faced with eviction notices and unpaid bills, I decided to dance at a strip club a few nights a week to earn extra money. It was the only job I could find that let me work a flexible schedule and earn a living wage.

I don't want to be a stripper: it can be demeaning to dance for men who show no respect for women. I only do it out of necessity, because I have to support my son. He gets As and Bs on his report card and my shelves are full of his football trophies. My son makes me proud and I want to give him everything that my mother couldn't give me. The wages I make at my day job just don't leave me much choice.
Unfortunately, congressional employees are notoriously underpaid, so Kim is almost certainly not alone. In April, the Washington Post published a story about another Senate cafeteria employee, Charles Gladden, who has been homeless for five years.