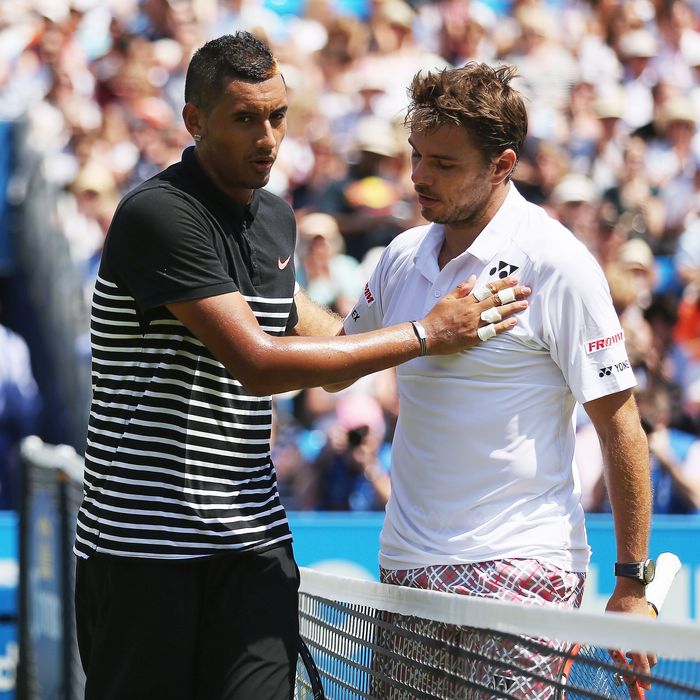 Nick Kyrgios and Stan Wawrinka.
Photo: Clive Brunskill/Getty Images
Ah, men's sports, where the muscles are big and the testosterone levels are high and the petty beefs go on and on and on. In the grand and long tradition of two men fighting over women without women's permission, at Wednesday night's Rogers Cup, tennis players Stan Wawrinka and Nick Kyrgios had a minor confrontation that circled around not athletic prowess, nor competing sponsorships, but one player's relationship.
With his mic still hot, Nick Kyrgios "insulted" Stan Wawrinka by saying that another player, Thanasi Kokkinakis, had "banged" his girlfriend, which he was sorry to have to tell him. This is an incredibly foul thing to beef over, given the fact that Wawrinka's girlfriend was not allowed to speak for herself. Even if his accusation were true, whatever Donna Vekic, an up-and-coming tennis star, does is between her and her god. But, hey, the shaming exchange is here for you to watch:
Later that evening, Wawrinka responded with the following tweet:
Kyrgios was fined an undisclosed amount on Thursday by the Association of Tennis Professionals, one presumes for being an asshole. For once, can we just leave the women out of these idiotic beefs?