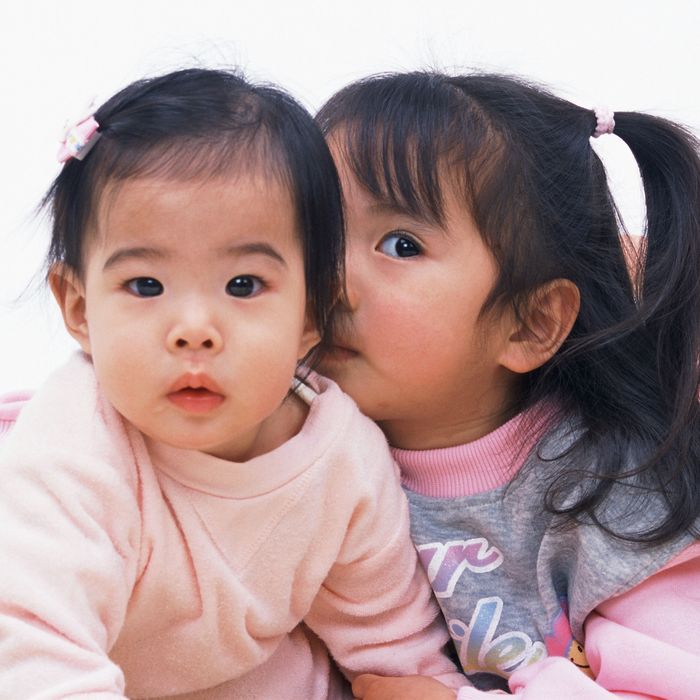 Here's something new to bicker about with your sister: A study published in Journal of Epidemiology & Community Health found that firstborn girls weigh more as adults than their second-born sisters.
Researchers analyzed data from the Swedish Birth Register on more than 13,400 non-twin pairs who became mothers themselves. Their weight was recorded right after they were born and again at their initial prenatal appointment, between 10 and 12 weeks into pregnancy. Firstborn sisters weighed slightly less at birth than their younger sibs but had a 2.5 percent higher body mass index (BMI) early in pregnancy — 24.4 versus 23.8. That seems small, but they were also 29 percent more likely to be overweight and 40 percent more likely to be obese, and the researchers said this study supports similar findings on male birth order and weight. (Though it's worth noting that the sisters' adult weights weren't necessarily recorded at the same age, just when they were pregnant.)
The authors aren't exactly sure why this is true, but they think changes in the placenta after a woman's first pregnancy might play a role. A doctor who wasn't involved with the study told CBS News that it could also be that parents are more likely to worry about their firstborn's health and may overfeed them as infants and children, and these eating habits can stick with them for life. Chill, second-time parents may go easier on the food. Add weighing less to the list of perks of being the younger sister, including staying out later and getting a cell phone sooner.