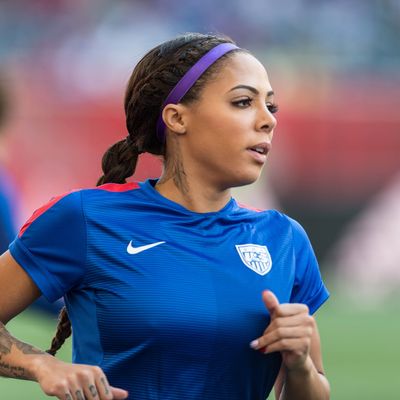 Photo: David Bernal/Corbis
In 2013, Sydney Leroux took a stand in a long-brewing turf war — literally. On Twitter, the Canada-born U.S. Women's National Team tweeted out a photo of her bruised, bloodied, and scraped shins with the caption, "This is why soccer should be played on grass!" She went on to join the list of women's soccer players who were protesting FIFA's insistence that the Women's World Cup be played on damaging artificial turf. The men's players got grass (as well as more prize money and bigger sponsorships), so why couldn't the female players? A discrimination lawsuit was filed by a squad of players, then ultimately withdrawn; the games were to be played on turf.
But that didn't deter the U.S. Women's National Team. With Leroux and a squad of ruthless athletes in tow, the USWNT went on to win the World Cup in Canada this year. Their 5-2 victory over Japan became the most-watched soccer game in United States history, and the team's stars became classic American sports heroes. New York City mayor Bill de Blasio organized a ticker-tape parade to celebrate their win, making them the first all-women team to receive the honor. Leroux, who never backed down on the turf issue, and who played 182 minutes over four matches in the tournament, was elated, saying, "There's no better feeling." Turf or no, winning is winning.
Leroux was in New York to promote Neutrogena's CoolDry Sport sunscreen recently, and I had a chance to sit down with her to chat about the changing tides in women's sports in 2015, the year of the female athlete, why the USWNT will not rest on their laurels even after their big, career-defining win, and what inspires her to keep playing.
So you just won the World Cup — congratulations! How does it feel?
The summer has been unbelievable. It was a really stressful environment, so when you're going through it and you have so many emotions going through you, you're like, Ahh, I'm so excited … but I'm stressed … but this is amazing! It was amazing, but now that it's over with, the team and the girls are all like, "Did we really do that this summer?" It's been a great summer. I couldn't ask for a better one.
What will the process be like to start getting ready for the Olympics? 
This is a different situation because last time, when we won the Olympics, you know, you have those two years where you're still playing, but it's not as intense. Whereas in this case, you move from one intense situation to the next, and it's a pretty quick turnaround. We're actually about to start getting ready, preparing for qualifying coming up in February. My situation is a little different because, obviously, I'm recovering from surgery, so right now I'm just getting back in shape, whereas everyone else is kind of ending their season.
Coming off winning the World Cup, this big pinnacle in your career, is there a sense of discomfort after the fact? Kind of like, What do I do now? 
No, because now it's super-exciting because we have something to look forward to with the Olympics. If it was the World Cup and then nothing, it would feel like, What happens now? But getting ready for the Olympics, and my first really true injury, coming back from that, it gets me excited. You never know what's going to happen, and my surgery turned out so well. I'm just excited to get back out on the field again.
During the World Cup, there were a lot of things written on why women should or shouldn't wear makeup during the games. I know that you wear makeup when you play. Can you tell me why? 
You know, I think there's definitely a thing about when you feel like you look good, everything kind of just flows better. We have a thing: "Look good, play good." Some people don't believe in it; me and my friends do. I have a routine that I definitely go through.
How long does your routine take you before the game? 
Oh, five minutes. I'm quick. I've gotten four or five girls on my team to do the same thing. Same makeup, same routine.
This has been a really incredible year for women's sports, with the USWNT World Cup win and Serena Williams about to dominate the U.S. Open. Do you see your influence on young women playing sports? 
It's really, really cool. I wrote this thing about the color of my skin, about how growing up I was very uncomfortable with who I was, and I was different from everyone. Obviously, me and my mom don't look alike — she's got a completely different skin color than I do. Every time I would go to the mall with my friends, people would assume they were her daughters. But I'd have to be like, "No, it's me." So I met this little girl, and she completely changed my life. She was mixed just like I am. She came up to me and she was crying, and she was like, "I look like you. I wanna be like you." That was a huge thing for me. I have a platform for people who look like me and who are different and who have different ethnicities to be like, "This is totally cool."
And you can succeed.
Yeah! My friend was telling me that whenever she sees a mixed girl or a black girl in a jersey, she's usually wearing a No. 2, which is really, really cool.
How do you see women's sports changing in the next ten years? In the next 20 years? 
I think women's sports — and especially women's soccer right now — are huge. The fact that men are having jerseys with our name on [them] is really cool. That was the first time that Nike had men's jerseys for women's players. We're in the game; we're in FIFA now.
Your avatar looks so much like you!
It's crazy! I think that us as a group together, we can be so powerful. We've done a really good job, and it's a very positive thing that people can look up to.
And that will carry through to the Olympics, too?
Yeah, I think so. I think people are super-excited for the Olympics, especially coming off of how big the World Cup was for us. The ticker-tape parade here was unbelievable. Things are really going up, and we hope that it continues. Obviously, we're in a different situation, but I don't think that the World Cup will ever be played on turf again. I think we made enough stink about it for people to be like, "This isn't right, this isn't equal." You know, the whole gender-equality issue, I think we're continuing to move forward, and I think that's really important.
What do you think is the best way to accomplish gender equality in sports? Your tweet about the turf issue went hugely viral. 
As women, we understand, we're not that crazy to think that we're going to get the exact same amount of money as some of these men's players. I think that we do well for ourselves, and we've continued to push those boundaries. It's gotten a lot better. We continue to do what we're doing, we continue to have a voice for these things that really matter, like the turf.
So by the next Women's World Cup, there will be no turf?
I don't think so. All these athletes got onboard: Kobe Bryant, Kevin Durant, all these athletes were like, "What's going on?" It was really cool.
Your teammate Carli Lloyd is writing a memoir. Do you have any interest in doing something like that?
I have had a pretty crazy life. Growing up in Canada, deciding that I wanted to play on the best team in the world, which I can truly say that I do. I've talked about it, I've thought about. My story isn't over yet. I wanna do it when it's the right time. I just turned 25, so this was my first World Cup. I want to have a few more under my belt. I want to have kids. I want to have a family. I want to start talking about things that people can really relate to me about. Life, family, eating, beauty, all this stuff. I think I want to do something eventually, but further down the line.
You left Canada at a young age to play soccer in America, which has won you some haters in your home country. [Leroux was booed at a 2012 game in Toronto.] Was the reception at the World Cup different to prior Canadian games?
I had one person say something to me throughout the entire World Cup, and that was it. I just laughed at it, it was just funny at that point. We were in the final, and we had just won, so I was like, Uh. People were really welcoming. When I got a chance to tell my story, I actually had someone send me a Facebook message and apologize. They said they hadn't understood my story, and that we all have the ability to figure out what we want to do, and what I wanted to do was a lot harder. It was a lot harder road. I could have stayed home; I could have gone to college at home. I could have played on the Canadian national team. Instead, I moved away from home when I was 14, by myself, and went on that journey by myself. I definitely took the road less traveled, but I'm happy for it.
And now you're a world champion. 
Yeah!
Do you see future success for the U.S. Women's National Team?
Yes. Especially now. Even going into the Olympics, we only see ourselves winning, and I think that's such a good American mentality. It's always the mentality we have. There have been so many games when we have been down and we play until the 97th minute, or the 94th minute, or however long it takes. We score and we figure out a way to win. Our team's will to win is unlike anyone else's.
This interview has been condensed and edited.