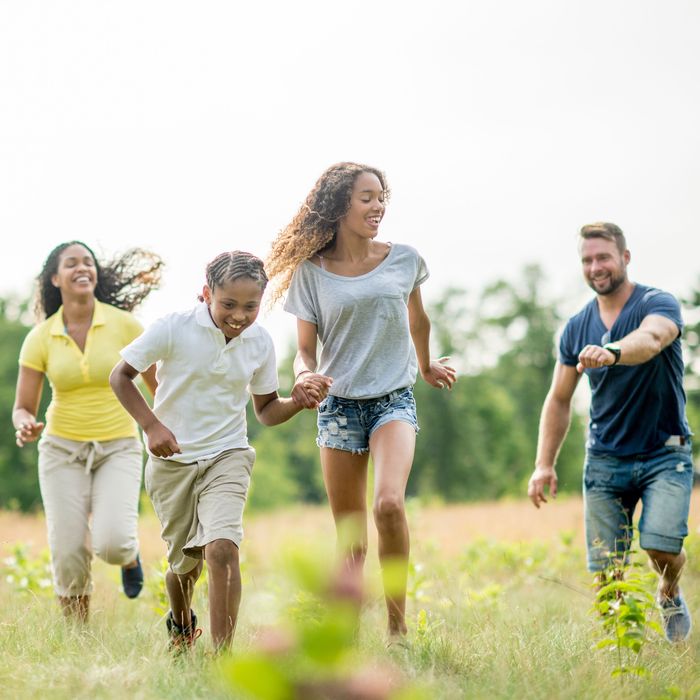 Photo: Christopher Futcher/Getty Images
It's 8 a.m., and I'm due across town. The school bell will ring in ten, but all three kids are shoeless, and yogurt streaks glisten on my toddler's face. My firefighter husband was supposed to be home 30 minutes ago so I could get to this meeting, but his relief arrived late. I hustle the big kids off to school, grab my coffee (especially important since I was up late working), and pack my youngest in the car. I meet up with my husband, pass the baby over to him like the baton in an obstacle-filled relay race, and, waving out the window, head to my appointment. It feels like the opening scene of a harried-working-family sitcom, without the laugh track and the hair-and-makeup team.
We're tag-team parents. It's a term coined by the Center for Economic and Policy Research for parents who work alternating schedules, taking turns at both paid employment and child care, and it's a work-parenting setup that's on the rise. More than one-fourth of two-income couples include an adult working a nonstandard schedule (other than nine to five with evening or weekend hours).
Shift work is nothing new, but traditionally, many men who worked overnight, including firefighters, had wives who were stay-at-home moms. Now, more of these couples trade off work and kid duties. On my husband's crew (all married fathers), the wives are all in the workforce, most of us fitting that work in around our husbands' 48-hour shift blocks and our children's school schedules. As a nonprofit consultant and writer, my job often gets done from a computer in our basement late at night, and I fit in the rest on the days when my husband is home with the kids. It's yet another way that families today don't look like the breadwinner father and stay-at-home mother ones of the past.
The Urban Institute's recent report "Who Minds the Kids When Mom Works a Nontraditional Schedule" shows this: Employed mothers with incomes under 100 percent of the Federal Poverty Level ($24,250 for a family of four) are most likely to work nonstandard schedules, while fathers with incomes above 200 percent of the FPL do so least often. The report focuses on moms, because we still do most of the caregiving. Among low-income mothers, 72 percent work these schedules because they have no other options: Working parents who face this challenge rarely have a choice. It's simply the nature of the work they do, which often has less scheduling predictability, such as retail and service work, or freelancing. Less commonly, tag-team parenting is an intentional choice, with parents selecting work with opposing schedules to maximize time with the kids or minimize child-care expenses.
We're lucky — tag-team parenting was (mostly) a choice for us. We made the shift after we had our third child. Child care for three kids under the age of 5 wasn't affordable, and what's more, time zoomed ahead at hyperspeed. Our kids were floppy newborns one minute and garbage-truck-obsessed toddlers the next. I didn't want to miss any of it, but I still wanted and needed to work. Fires and car accidents don't care if it's midnight, so my husband couldn't stop working nights and weekends. Choosing to tag-team meant spending more time with our kids, and squeezing in a few more family breakfasts when my husband was home. While hazy with exhaustion after the birth of my third baby and overwhelmed, leaving my full-time job and doing flexible contract work felt like the only option other than chucking it all to become sheep farmers in New Zealand. (Alas, we know nothing about sheep.)
Most parents working nonstandard schedules patch together a complicated web of child care, from leaning on the other parent to friends and center-based care. Child care is always shifting for working parents: Even if you find the perfect preschool, summer will come with its scramble for day camps or a sitter. Tag-team parenting just magnifies that scramble, with the specifics changing every week. During the school year, our youngest is almost always with either my husband or me, as we swap off as the working parent and the stay-at-home parent. The exceptions are an eight-hour-a-week nanny share, generous grandparents, and spending time with our virtual friends on Sesame Street.
Dozens of couples we know are tag-team parents: police officers married to nurses, an ER-doctor couple who balance shifts, a graphic designer who works when his marketing-manager wife comes home. For one firefighter couple who swaps days on duty, an aunt steps in to watch their daughter and bridge the early-morning gap between when one parent leaves and the other gets back. A friend who waits tables schedules her shifts late in the day, and her woodworker husband goes in at 7 a.m. so he can come home to be with the baby in the afternoon — the cost of high-quality infant care is out of reach for their family.
Our systems have evolved to fill the holes in "the system." The child-care network is already straining to meet demand, operated by caregivers who get paid too little, and it's not set up to address the evolving world of work schedules. Centers are generally open nine to five,  at most 7 a.m. to 7 p.m. Twenty-four-hour centers are popping up, but they're still rare. Stopgaps like au pairs, expensive nighttime nannies, or generous grandparents aren't available to many couples.
Hillary Clinton supports universal, high-quality pre-K and full-day care (and does her bit babysitting) and New York City mayor de Blasio has made sure it's already on the menu for this city's 4-year-olds. These are great early education programs to help kids get ready for kindergarten. But when work for 40 percent of Americans isn't a nine-to-five proposition, there's a gap in the discussion. Not all parents need and want child care during traditional hours. What's missing is a system built on an understanding of the realities of work schedules today, perhaps one with a menu of options, like evening and weekend hours and the chance to select alternating days.
Of course, if high-quality care were more affordable, some night workers splitting shifts to manage parenting might stick with days. Once children reach 6, child-care costs drop, and tag-team parenting becomes less common. People who work low-wage jobs with nontraditional schedules without a choice in the matter, though, need more helpful solutions that aren't just about birthdays: companies like Netflix with extended family leave (and not just for salaried employees) and affordable, flexible, high-quality child care.
Tag-team parenting, though more common these days, is not new. In 1975, my husband's parents, then a nurse and a metal worker, worked opposing shifts. When my father-in-law babysat his son (as dads watching their own kids was called 40 years ago), he liked to take him out for ice cream at the air-conditioned mall. A 1983 New York Times piece quotes two social psychologists describing men who work nights as, "somewhat more helpful around the house."
In 2015, the phrase "somewhat more helpful around the house" translates to a marriage-and-parenting arrangement that feels pretty fair. I'm the household manager in terms of money and schedules, while my husband is the fixer of all things broken. In terms of day-to-day housework, we don't have a stark division of responsibilities, except that he always bakes the pies for holidays and I always make the birthday cakes. With everything else, we take a look at chores that need doing, from dishes to laundry, and we just get it done.
One fellow tag-team mom describes it this way: "No one comes home, sits on the couch with a beer, and waits for the wife to get dinner on the table."
That's one thing that tag-team parenting has going for it. It's not for everyone, but it's an option for couples who want a fairer division of duties, and who are comfortable with time together that's less date night and more morning coffee, plus sacrificing some sleep.
My work is cyclical and, during busy weeks, we're exhausted. It sometimes feels like we have a newborn again, and I've found myself in the middle of the frozen-food aisle wearing fuzzy brown slippers. Recently, friends invited my husband out for happy hour. "Go! You should go," I said. "I'm just too tired," he answered. That's our constant refrain: I'm just too tired. When the kids are older, we'll go see a movie in the theater again, we tell ourselves. I'll be able to have more than half of a glass of wine without falling asleep.
During one intense week, my husband had extra training on top of his regular shift schedule, school was out, I had three deadlines and three hours of sleep, and the yard was a mess of half-finished projects that weren't going to be done anytime soon. I vented to a friend it was the worst week of our lives.
"Every three months, you say it's the worst week," she said.
She's right. As with the childbirth-pain amnesia that struck a few months after each baby's birth, I quickly forget the low points. My husband gets home on a Tuesday and we enjoy a lazy pancake breakfast followed by a weekday bike ride — something we couldn't do with regular nine-to-five jobs. School starts back up, and my workload drops down to manageable levels. We barrel through a few lovely weeks with enough sleep and socializing until the next worst week rolls around.
We can't know what other folks' lives look like in detail, and so I can't say if this is crazier than what other families do — didn't we all sign up for some level of chaos and exhaustion? Single parents, deployed parents, grandparents who are raising the children of their children — there are all kinds of complexities with which to wrestle. We figure it out as we go and we keep going.
For us, tag-team parenting is the best way to see the kids we adore, do work we love, and still pay the bills. We'll never have a standing Friday date night or every weekend together, but all this tag-team parenting has made us appreciate that we're a team.
A few months ago, our basement flooded, rainwater pouring in through the base of a window. I swore under my breath, thinking of the project I'd planned to complete that night, and set my kids up in front of the TV so I could clean up. As I stood ankle-deep in water, using up all our Tupperware plus the kids' red plastic pails in a feeble attempt to bail it out, my kids tumbled in and announced, "We're here to help." The boys became a pint-size bucket brigade, and my toddler shouted, "Whee!" as she joyfully stomped through the indoor wading pool. Eventually, my husband came home with a pump to suck all the water out, and the kids told him how they, too, had helped out. Then I pulled out my laptop and got to work.