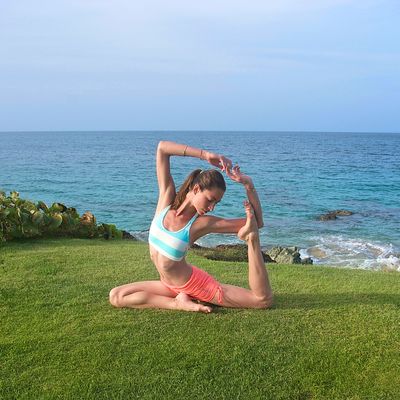 Photo: W Retreat & Spa - Vieques Island
As the creator of Strala Yoga, Tara Stiles has gained thousands of fans with her down-to-earth, non-crunchy approach. A classically trained dancer, she's been vocal about how yoga helped her recover from a sexual assault and subsequent eating disorder. Stiles launched Strala from her apartment in 2007 and now operates studios in New York, Seattle, Singapore, and soon, Barcelona. She's made yoga DVDs with Jane Fonda and Deepak Chopra (who hired her as his personal instructor), signed a deal with Reebok, and became the official yogi of W Hotels, creating in-room yoga videos and immersive packages at the W Retreat & Spa, Vieques Island, Puerto Rico. Stiles spoke with the Cut about finding ease in your body.
How I start my mornings: If I'm at home, I'll make a smoothie. I'll put spinach, banana, almond milk, peanut butter, and avocado in there. It's so good. Or scrambled eggs. If I'm traveling, I'll bring Kind bars and almonds and stuff like that.
How I like to sweat: I'll pop into a Strala class three or four times a week. Besides yoga, I like doing anything outside. I was recently in Hawaii for five days. It's like the best playground. We did stand-up paddle-boarding, hiking to a waterfall, swimming. I've never really liked the gym, but I like getting outside and running around and being a kid.
How wellness has changed for me: In my teenage years, everything was more intense than it needed to be, and I thought that I needed to struggle to do well. I even thought I needed to struggle with food to be healthy. I had to unlearn the idea of "Work hard, kill yourself to get the other side." Now I feel really good and I'm working hard, but I'm not stressing myself out. There's always stuff that comes up, but I can deal with things a lot better.
On my non-diet diet book: People would come in over the years asking about food. I'm like, "I'm not your mom, I'm not a doctor, and you know what to do." I wanted to take away that mystery for people, and show you things you can make that are easy, that taste good, that don't look super-hippie, that are recognizable foods. You see people spend all this money to have food delivered to their houses. Sometimes it works, sometimes it doesn't, but people just jump down these tension paths that don't really lead anywhere because they have a big promise at the end.
My fitness advice is: If it raises your stress level, then you're in the wrong place. I even tell people that here, because some people want more structure in a yoga class. They're freaking out. I'm like, "You should go to Iyengar. You'll feel better." It's not that one way is wrong or right — it's all different planets.
Why I don't start class with an anecdote: I wanted to keep it open instead of layering a story on it every time. A lot of training programs require you to have a theme of the day, so you have a 24-year-old girl end up telling a story like, "When I was on the subway today I felt really stressed out," and you have somebody in there whose mom is dying.
On Instagram comments about my body: Some partners I've worked with, they almost believe comments and they're like, "Do you have a problem?" That gets annoying. I want to tell some of these commenters, "You're messing with my business." I just delete whatever I see, but it doesn't hit me on an emotional level anymore. If I had problems with myself still, it probably would — like if I was going through that, but I'm not. I've also just seen the world get bigger. I travel a lot and it's an American problem. People are used to seeing much bigger people. The body-positive movement is so great, but I think it's going to go to this extreme of "Being 300 pounds is okay." It's great to love yourself while you're working on getting healthier. I think healthy does look different for every person.
How I respond to critics of my method: When they come to class, they see that we're guiding every single moment of the movement. It's not chaos. It's being really simple and clear in the instruction, and finding ways that are positive and normal and natural to say those things.
On posing versus feeling: That was really important for myself with yoga: not just to do the poses but how you're doing the movements and how that makes you feel. There are no mirrors. It's all about feeling. The main thing I want to help people do is relax instead of trying to do poses. People say, "I'm going to try to do this handstand," but you can also just rock forward and back and explore, and say, "Who cares if I do a freaking handstand?" It's not going to change your life. But if you're rocking forward and back and breathing, you're going to feel better and that's going to help you do whatever you need to do today.
Coming from a dance background, yoga saved me in a way. Dance is so freaking hard and yoga was like, "Oh my God, I can just be in this movement?" And the teacher at the conservatory was so good. He knew it wasn't about how strong your arms are. He was trying to take us to this emotional, connected place. As training over the years uses more anatomical language like "engage your core muscles," it kind of loses that emotional component.
On yoga stress: Instead of saying "If you can't do this, do this," we say "If it doesn't feel good, try this." People are already working hard; I don't have to encourage them to work harder. It's more about encouraging people to find ease in that process, because then they get further. People are like, "Wow, I'm doing something hard, but I'm not stressed about it." If I guide the pose, you can get there, but if I guide the process, you can go anywhere.
This interview has been condensed and edited.