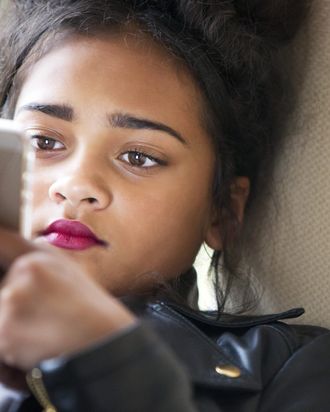 Photo: SolStock/Getty Images
Teens — they're feeling lots of feels and they're on social media all day. A new study suggests that the more teens use social media (you know the ones: Kick, Vile, Tindah, Groover) the bigger impact it has on their mental health and well-being. What a time it is to be young and alive.
The study, which was published online mid-July in the journal Cyberpsychology, Behavior, and Social Networking, was conducted by Ottawa Public Health. By looking at the social media behavior of 753 teens in grades seven through twelve, researchers found that teens who admitted to using social media for two hours or more a day were also more likely to report "unmet mental health needs." Unmet mental health needs meant anything from suicidal ideation to "high levels of psychological distress." 
While the sample in the study is small and causality can't be directly inferred, more than 25 percent of teens interviewed for the 2013 Ontario Student Drug Use and Health Survey said they used social media over two hours a day. That's a lot! And even more depressing, a Pew Research study revealed that one in four teens admitted to going online "almost constantly." 
Chill out, guys.