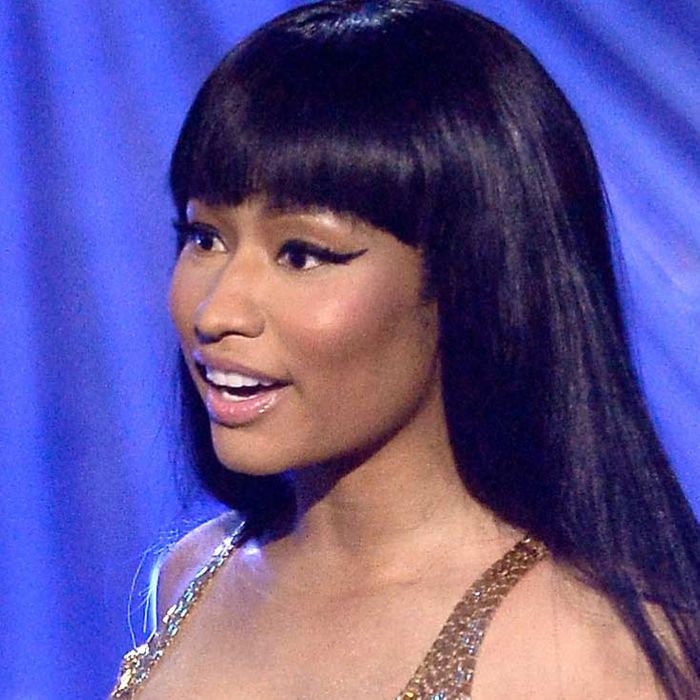 Photo: Kevork Djansezian/Getty Images
My initial plan was to ignore last night's MTV Video Music Awards. Even before the color-blocked carpet was rolled out, the proceedings were laced with controversy — tempestuous but somehow predictable. But the live show delivered a reality not often seen in America.
Back in July, after the nominations were announced, Nicki Minaj took to Twitter to talk about MTV's long history of ignoring the contributions and groundbreaking work of female artists of color.
Her video for "Anaconda" was one of the most talked-about and well-received of the year, but had been all but shut out of the nominations by those in power. Missing the point of the discussion of this continuing erasure: Taylor Swift, who inferred that Nicki's comments were being made in reference to Taylor's many nods, felt personally wounded, and called out Nicki for not supporting other women.
Eventually, Taylor tweeted out an apology of sorts for getting involved in a discussion that was about something far larger than her personally, but the bad blood remained, if you will. Miley Cyrus stoked the embers in an interview with the New York Times, saying, among other things, "You made it about you. Not to sound like a bitch, but that's like, 'Eh, I didn't get my V.M.A.'"
Still, I wasn't watching the VMAs — until Taylor joined Nicki's opening performance. Something about inviting Taylor onstage felt like an un-needed apology from Nicki that rubbed me the wrong way. As a black woman, throughout my life, I have found myself cornered into the position of apologizing. Apologizing to those who have made me uncomfortable, and to those who have outright insulted and assaulted me. I have apologized for existing and excelling and insisting on taking up space. And in every instance, I have regretted the fact that I folded under the pressure to make others feel comfortable in and with their ignorance. Staged purely for effect or not, this moment stirred up all of the old regrets. True, Taylor had apologized to Nicki. But did Nicki need to apologize to her?
However, Nicki wasn't done. She ended her acceptance speech for Best Hip-Hop Video by addressing Miley directly, shooting her a look from one stage to another in what was supposed to be a quick toss to the host. "And now back to this bitch that had a lot to say about me the other day in the press. Miley, what's good?"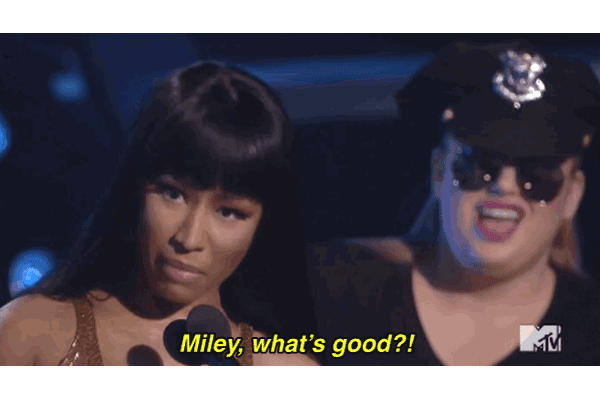 I felt myself soaring. As Miley stuttered through her response and Nicki's mic was shut off, I was glad this moment had made its way through the walls I'd constructed. There are those who think it was staged. There are others who swear that it was not. I don't think that it matters in the end. The words she said — clear and demanding respect — had a power that I have always wanted to be able to muster. It was thrilling to see that someone else was capable of it. I thank her for it.