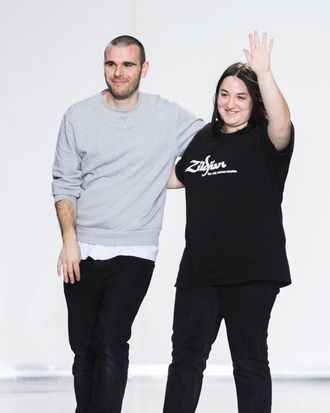 Paulo Almeida and Marta Marques.
Photo: Alessandro Lucioni/Imaxtree
Normally, with fashion ads, the goal is to go wide — the bigger the billboard, the more oversize the glossy spread, the more mass appeal, the better. But LVMH Prize winners Marta Marques and Paulo Almeida, the designers behind Marques'Almeida, are taking a different tack for their fall 2015 campaign. They will send the ads to friends and clients via email, and each one will be personalized to their specifications. Marques and Almeida told i-D that the idea came to them because they got to know many of their clients over email: "We really care about interacting with our clients and getting to know them better, so we thought this would be perfect for that!"
The small-batch approach is a canny one for the still-up-and-coming label — focusing on personalization and forging a connection with the customer. After all, if you're going to be paying upwards of $700 for a frayed denim jacket, you want to feel like you're personally acquainted with the people who made it. But it's a strategy that seems to be more and more prevalent. Larger brands like Calvin Klein — which encouraged regular Joes to show off their modeling skills alongside celebrities in its #mycalvins campaign — are also betting on the power of personal involvement. It's no longer enough to simply gaze in admiration at a 40-foot-high Kate Moss: People want to see something of themselves in fashion advertising.
Marques and Almeida took an extremely lo-fi approach, enlisting their photographer and stylist friends to shoot the images, then sent their contacts a questionnaire to answer so that they could personalize each response. To get on their pen-pal list, you can email their head of communications at rita@marquesalmeida.com. Finally, a reason to actually look forward to checking your email.